Blog Archives
As each new season approaches, we begin to look forward to that first moment when the games begin and count for real.  You circle the date on your calendar months in advance, and you might even put a reminder a week before in your cell phone.  Some of us get one of those countdown widgets too since we like to antagonize ourselves about how far away it is, yet get excited the closer it gets. No plans can be made on that date other than watching or being at that opening game.  Your team has a bright outlook to start out, and has high hopes to compete and perform better than the season before.  You too have the feeling that there might be something different about this year's group that gives hope that it's going to be a special year. Many teams begin their season having to deal with all the prognosticators announcing that fans have nothing to look forward to other than another season of ineptitude, broken hearts, or promises that will not be fulfilled.  Another year of high hopes, ending with shattered dreams, and I told you so's.  There comes a time however when teams use that as a catalyst to have a season that no one saw coming.  Not even you.
You've seen it before I'm sure.  A team who is expected to finish last in their division or conference just seems to have "it" as the season begins, and doesn't seem to lose "it" the longer the season goes.  New faces bring a fresh attitude, and an energy level that seemed to have been missing from seasons past.  Some of these players are wily veterans making one last go of it as they chase either their first, or one more championship.  Or they are journeymen who never had the chance to show what they can do if given the right opportunity in the right setting.  Something about them allows them to have their "career year" at just the right time.  Sprinkle in a few rookies to add that youthful feeling of not knowing any better, and before you know it, things seem to be looking up.
The above incident occurred on October 9th, 1996.  It's been almost 16 years to the day, as the Baltimore Orioles host the New York Yankees tonight for the first of two home games in the American League divisional playoffs.  This is the first appearance in the post seasn for the Orioles in 15 years, and ironically, it's a chance to wipe away the hatred and disgust that has been felt towards a then 12 year old "fan", who many (myself included) have a gargantuan amount of angst towards.  Whether Jeffrey Maier, the young lad who caught dropped the so called home run can ever be forgiven remains to be seen, but the good thing is that no Oriole on this current roster was a member of that 1996 team.  Therefore allowing the players to concentrate on the job at hand, while the fans will carry out the assignment of verbally abusing the now 28 year old adult for the next few days.
As if you haven't already figured out, the passion for the teams I support runs very, very deep.  Doesn't yours?  I have a great deal of trouble moving on, and cannot forgive as easily as I should.  Sure it's just sports, but when you live, breathe and die with your team, any incident of wrong doing goes down about as smooth as a rosin bag.  Especially when you've been living in misery while your once proud team and organization has been treated like a divorced stepchild.  The Orioles  have spent the past 15 seasons trying to figure out how to get back to their better days, and until this season, could never get it right.  Since the Maier incident, they appeared in the post season only one more time, which was in 1997.  They won the division series against the Seattle Mariners, however lost to the Cleveland Indians in 6 games in the division championship series.  Had they beaten Cleveland, guess who their opponent in the World Series would have been?  The Florida Marlins. Read the rest of this entry →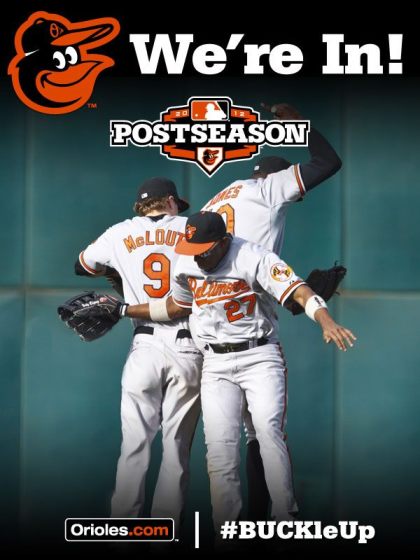 If you know me, you'll eventually learn that I'm passionate, dedicated, and loyal to a fault.  Bruce Springsteen, the Florida Panthers, the Chicago Blackhawks, the Baltimore Orioles, coffee, and Molson Canadian all have a very special place in my heart.  Get on the wrong side of that, and it's over.  I can be patient, as well as impatient, but when it comes to the love of my sports teams, they can always count on my support.  On the other side of that coin, I'm not afraid to be critical of them either, but it doesn't mean that I have given up on them.
My loyalty to two teams has finally paid off after a combined 26 years of futility.  When I moved to South Florida in 1993, supporting the Florida Panthers was an easy decision for my since I loved hockey so much.  Plus they played in a different conference than the Chicago Blackhawks, so I rarely had to make a decision on who to root for.  Ironic that the Panthers first game ever was against the Hawks, and we all know that game ended up in a 4-4 tie.  We also know the playoff drought for the Panthers that lasted 11 seasons was finally laid to rest this year, as the Panthers not only qualified for the playoffs for the first time since 2000, but they won their first ever division crown.  Years of frustration had finally been laid to rest as the Panthers surprised everyone by taking the New Jersey Devils to seven games, finally losing in double overtime, when most people had left the Panthers for dead.