How Loyalty In Sports Rewarded Me Twice In 2012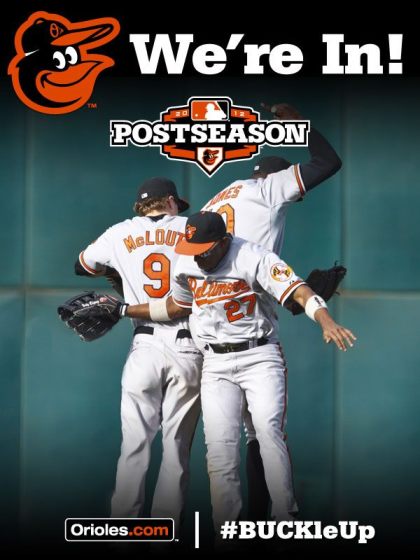 If you know me, you'll eventually learn that I'm passionate, dedicated, and loyal to a fault.  Bruce Springsteen, the Florida Panthers, the Chicago Blackhawks, the Baltimore Orioles, coffee, and Molson Canadian all have a very special place in my heart.  Get on the wrong side of that, and it's over.  I can be patient, as well as impatient, but when it comes to the love of my sports teams, they can always count on my support.  On the other side of that coin, I'm not afraid to be critical of them either, but it doesn't mean that I have given up on them.
My loyalty to two teams has finally paid off after a combined 26 years of futility.  When I moved to South Florida in 1993, supporting the Florida Panthers was an easy decision for my since I loved hockey so much.  Plus they played in a different conference than the Chicago Blackhawks, so I rarely had to make a decision on who to root for.  Ironic that the Panthers first game ever was against the Hawks, and we all know that game ended up in a 4-4 tie.  We also know the playoff drought for the Panthers that lasted 11 seasons was finally laid to rest this year, as the Panthers not only qualified for the playoffs for the first time since 2000, but they won their first ever division crown.  Years of frustration had finally been laid to rest as the Panthers surprised everyone by taking the New Jersey Devils to seven games, finally losing in double overtime, when most people had left the Panthers for dead.
It was a terrific season that saw more than 10 new faces come together and grab South Florida's attention again, reviving a fading fan base who had all but given up on hockey.  New ownership, combined with Dale Tallon, and a new head coach (Kevin Dineen) all combined to make the Florida Panthers matter again.  I admit that during the 11 years of not making the playoffs, there were many times that I was vocal and outspoken about what was happening on the ice, and in the front office.  Only because I cared, and was tired of watching a once promising franchise become the butt end of hockey humor.  Making the post season in 2012 erased all the pain and suffering that we've had to endure the past decade.
They say double your pleasure, double your fun, and this year has proved that right, as in addition to the Panthers making the playoffs, now finally the Baltimore Orioles have finally qualified for them for the first time since 1997!  The Orioles have been my favorite baseball team since I was 5 years old.  During the late 60′s, and thru the mid 80′s they had the best record in baseball, and had won numerous division championships, three World Series ('66, '70 and '83), and had a glut of future hall of famers.  I grew up watching and falling in love with Brooks and Frank Robinson, Boog Powell, Jim Palmer, Eddie Murray, Mike Boddicker, Ken Singleton, Cal Ripken Jr, and now Nick Markakis.  I could name many more, but will save you the agony.
Before this season, the last good thing that happened to the Orioles besides making the playoffs in 1997, was Cal Ripken Jr. breaking Lou Gehrig's record for consecutive games played.  The town of Baltimore has suffered much like the Panthers have suffered.  Bad trades, horrible free agent signings, injuries, and managers that had no business managing any more than I did, caused a once proud organization known for "The Oriole Way" to fall on it's face.  And hard.
If you've never been to Baltimore to see a game, you really should.  Oriole Park at Camden Yards is a beautiful place to see a baseball game.  The food, the city skyline that sits in the background in centerfield, and of course warehouse wall in right field add an ambiance that is very difficult to beat.
There are a lot of similarities to the success of both the Panthers and Orioles this season.  They both have had to overcome multiple injuries, have a multitude of new faces, have had the pressure to keep pace all season long when no one thought either of them could have kept it up.
The Orioles qualified for the playoffs Sunday, and as I type this, we still don't know how they'll be going.  As a wild card, or as a division winner.  Still, I don't care.  They made it.  And as we all know, once you get in to the playoffs, anything can happen.  Just ask the 1996 Florida Panthers.
Thanks for reading.  We welcome your comments and opinions.
Follow the Rat Pack on Twitter: me @TheRatTrick , David Lasseter @davidlasseter , Josh Luecht@joshluecht, Patrick McLaughlin @PatrickRattrick, Scott Mullin @GreatScottsman, David Rodriguez @davidbub_2, Paige Lewis @RatTrickLewiz Gabby Kiger @gabbykiger, Adam Reid@AdamReid Chrissy Parente @chrissaay44, Justen Rosenberg @justenrosenberg, Kris Eberwein @RatTrickKris, and Lori Carpenter @lmcangel13. Also, please join our FaceBook Fan Page and hit the like button, send us photos, and tell us what's on your mind.