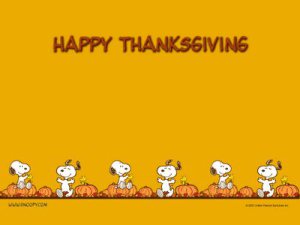 Today is a day that we have many things to be thankful for, and we should all take a moment and appreciate what it is that we do have.  While things are not prefect for many, I'm sure we can each find at least one thing that we are grateful to have on this day.
Take today and enjoy your friends, families, and some good food and spirits.
I'm sure that I speak for all of us here at Panther Parkway when I say that we appreciate your loyalty to us, your following of our posts, and the fandom that we share.
Thank you for sticking with us, and while we have taken a few days to "regroup" and clear our heads, we will be back to normal shortly.
Happy Thanksgiving!
Follow the Rat Pack on Twitter: me @TheRatTrick , David Lasseter @davidlasseter , Josh Luecht@joshluecht, Patrick McLaughlin @PatrickRattrick, Scott Mullin @GreatScottsman, David Rodriguez @davidbub_2, Paige Lewis @RatTrickLewiz Gabby Kiger @gabbykiger, Adam Reid@AdamReid Chrissy Parente @chrissaay44, Justen Rosenberg @justenrosenberg, Kris Eberwein @RatTrickKris, Lori Carpenter @lmcangel13, and Amanda Land @HockeyGirl2530.  Also, please join our FaceBook Fan Page and hit the like button, send us photos, and tell us what's on your mind.