Will A Team Overpay For Stephen Weiss?
Last week, the Anaheim Ducks made headlines both in the NHL and the world of finance when they re-signed star center Ryan Getzlaf to a 8-year, $66 million contract extension.  The $8.5 million cap puts Getzlaf tied with Eric Staal of the Carolina Hurricanes as the 3rd highest cap hit of any center in the NHL, only behind Sidney Crosby and Evgeni Malkin.
Although he isn't quite at the level of players a Sidney Crosby or John Tavares, Getzlaf is still widely considered to be an elite center and the Anaheim Ducks decided to pay him like he is one. Considering this is the first mega-deal since the ink has dried on the new CBA, this mammoth contract will set the stage for the entire 2013 offseason as free agents look for the biggest cash grabs around the NHL.
And that's where Panthers' center Stephen Weiss comes into play…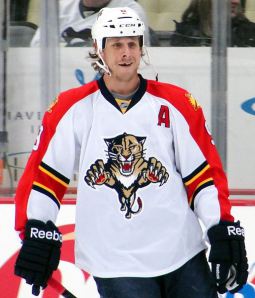 Heading into the 2013 offseason, Weiss will be one of the most coveted free agent forwards in the entire NHL as teams scramble to bid for the services of the talented two-way center. While clearly Weiss is not in the same class as Ryan Getzlaf, the fact remains that many NHL team's will want a player like Weiss to anchor their 2nd line during the 2013-2014 season.
Luckily for Stephen Weiss and his wallet, the veteran forward will be a big fish in a small pond this offseason as only a handful of quality centers will be heading towards unrestricted free agency. Weiss will be near the top of a free agent class consisting of centers such as Mike Ribeiro, Nik Antropov, Tyler Bozak and Derek Roy – hardly a group of superstars, but still very coveted players.
The combination of both Getzlaf's mega deal and a weak free agent class should prove to be a perfect storm of cash that will rain down upon Weiss this offseason. Before the Getzlaf contract, it would be safe to assume to Weiss could have received around $3.5 million a season, but since that deal and after reviewing other available options at center, it's more likely that Weiss will now receive a contract in the $4.5 – 5 million per year range.
At around $5 million per season, Weiss would be receiving slightly less than New Jersey Devils' center Travis Zajac who prior to this season signed an 8-year, $46 million deal. Both Weiss and Zajac are considered excellent two-way players with a knack for the faceoff circle and an ability to score between 45-60 points a season. Considering there will be a lowered salary cap starting next season, I believe Weiss receiving around $5 million on the open market would not be far'fetched - especially now since the Ducks' set the bar on what an elite center is worth post-CBA.
At almost 30 years-old, this next contract will most likely be that last deal that Weiss signs during the prime of his career, so he will undoubtedly try to get the most money he can while he can. While some fans can hope that Weiss will take a hometown discount to stay with the frugal Panthers, I would think that between his high price tag and the way things ended for him this season, he will most likely leave for greener pastures – and when I say greener, I am obviously talking about cash.
Follow All Panther Parkway writers on Twitter: Me @JamesonCoop, Frank Rekas @FrankRekas, Josh Luecht @eyesonsunrise, Scott Mullin @GreatScottsman, Paige Lewis @PaigeLewisFL, Gabby Kiger @gabbykiger, Amanda Land @HockeyGirl2530 and David Lasseter @davidlasseter. Visit our Facebook fan page here and give us a like and share anything you wish with us.