Daily Archives:
March 15, 2013
Last week, the Anaheim Ducks made headlines both in the NHL and the world of finance when they re-signed star center Ryan Getzlaf to a 8-year, $66 million contract extension.  The $8.5 million cap puts Getzlaf tied with Eric Staal of the Carolina Hurricanes as the 3rd highest cap hit of any center in the NHL, only behind Sidney Crosby and Evgeni Malkin.
Although he isn't quite at the level of players a Sidney Crosby or John Tavares, Getzlaf is still widely considered to be an elite center and the Anaheim Ducks decided to pay him like he is one. Considering this is the first mega-deal since the ink has dried on the new CBA, this mammoth contract will set the stage for the entire 2013 offseason as free agents look for the biggest cash grabs around the NHL.
And that's where Panthers' center Stephen Weiss comes into play…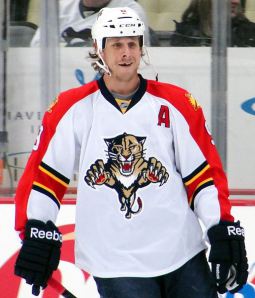 Heading into the 2013 offseason, Weiss will be one of the most coveted free agent forwards in the entire NHL as teams scramble to bid for the services of the talented two-way center. While clearly Weiss is not in the same class as Ryan Getzlaf, the fact remains that many NHL team's will want a player like Weiss to anchor their 2nd line during the 2013-2014 season.
Luckily for Stephen Weiss and his wallet, the veteran forward will be a big fish in a small pond this offseason as only a handful of quality centers will be heading towards unrestricted free agency. Weiss will be near the top of a free agent class consisting of centers such as Mike Ribeiro, Nik Antropov, Tyler Bozak and Derek Roy – hardly a group of superstars, but still very coveted players.