Daily Archives:
March 14, 2013
FLORIDA PANTHERS: 7-14-6 (20 PTS.) vs. BOSTON BRUINS: 17-4-3 (37 PTS.)
Game Day Song:  Wrong Side Of Town.
A fragile and frustrated Florida Panthers team goes into Boston tonight to face the Boston Bruins in what could be a hostile environment.  Boston who currently sits fourth overall in the Eastern Conference is coming off a 3-2 loss to the Pittsburgh Penguins on Tuesday.  A game in which they held a 2-0 lead until the 13:42 mark of the final period, when Pittsburgh's Chris Kunitz broke the shutout.  Less than a minute later Brandon Sutter tied it at two, and three minutes after that, Sutter scored the go ahead goal with less than three minutes left in regulation.  The Penguins who played about 10 minutes of hockey, found a way to win.  That's what good teams do.  Boston can't be at all happy with that outcome, and will look to get things back on track this evening against a Florida Panther team that continues to find itself struggling game after game with injuries continuing to mount.
The problem for the Panthers, especially of late is slow starts.  In four consecutive games the Florida Panthers have given up the first goal of the game within the first three minutes.  Starts like that force you to play catch up, especially if you're not a high powered offence like the Panthers, and let's not kid ourselves…..each time that happens you can't help but get that sinking feeling in your stomach.  The one where you say to yourself, "here we go again".  It's a major problem that needs to be corrected.  Poor preparation, not motivated, not ready, tired, out of shape, not focused, etc, etc.  There are no excuses for this, but there are reasons for why it's happening, and any one of the one's that were just mentioned are part of it, plus a few more.  The injury bug that has also bith the Panthers this season can also be added to that list.  I never like to use that as a sole excuse, but it has certainly factored into the overall state of the team.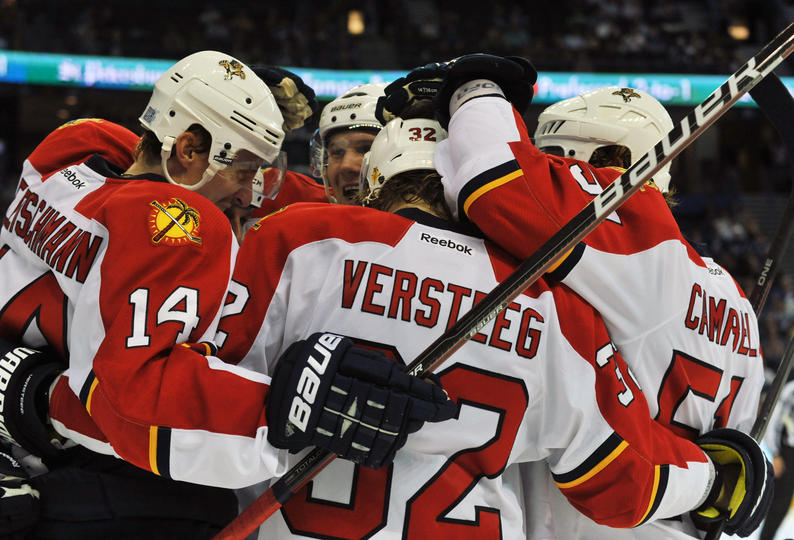 Just when you thought things couldn't get any worse for the battered and bruised Florida Panthers, it looks as if forward Kris Versteeg will undergo surgery and miss the remainder of the 2013 season.
George Richards of the Miami Herald broke the news this morning that Versteeg would need surgery on his knee after an unlucky collision with Tampa Bay defenseman Radko Gudas left him laying on the ice and writhing in pain on Tuesday night.
Versteeg now joins Stephen Weiss, Sean Bergenheim and Jose Theodore in the severely wounded section of the Panthers' roster as all four players are most likely done for the season after suffering major injuries. The Panthers are also still without defenseman Dmitry Kulikov, Ed Jovanovski, Michael Caruso and Mike Weaver - though all four should return later this season.
What better way to spend your lunch break than catching up on all of last night's amazing NHL action that you may have missed! Here are the top stories and videos from the all of yesterday's action around the NHL.
Follow All Panther Parkway writers on Twitter: Me @JamesonCoop, Frank Rekas @FrankRekas, Josh Luecht @eyesonsunrise, Scott Mullin @GreatScottsman, Paige Lewis @PaigeLewisFL, Gabby Kiger @gabbykiger, Amanda Land @HockeyGirl2530 and David Lasseter @davidlasseter. Visit our Facebook fan page here and give us a like and share anything you wish with us.