Daily Archives:
March 11, 2013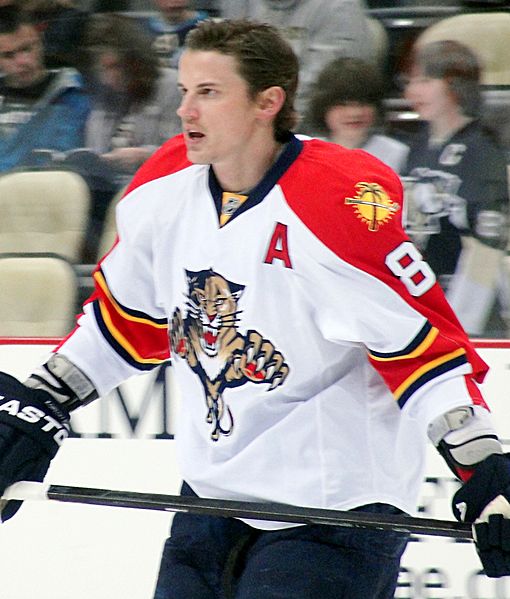 Although the Panthers are clearly not where they would like to be in the standings, it doesn't mean that they haven't had their fair share of exciting moments this season. On a team filled with fresh faces and young offensive talent, the Panthers have quickly become an exciting team to watch not only as a Florida fan, but as a hockey fan in general.
Here are my choices for the top 5 Panthers' goals in the team's first 24 games this season.
5. Drew Shore
After coming so close in so many games, rookie Drew Shore was finally able to score his first NHL goal using a lovely deflection.
4. Tomas Kopecky
In possibly one of the best offensive games of his career, Tomas Kopecky used this long empty net goal to seal his first career NHL hat-trick.
With the Eastern Conference-leading Montreal Canadiens arriving for Sunday's contest with the Florida Panthers less than 24 hours after playing in Tampa, you could make a reasonable assumption that the Cats, with 'fresher legs', would be in a spot to put the Habs under pressure from the opening face off. Seems like a logical theory but, in practice, it was absolutely wrong. After a three goal third period in a comeback win over the Tampa Bay Lightning on Saturday, Montreal kept right on rolling in the first period Sunday, scoring two goals in the opening 8:42 on its way to a 5-2 rout.
After giving up a goal on the first shot in two consecutive games, Jacob Markstrom stopped the Habs first effort. The same can't be said for the third shot, as David Desharnais scored with a wrister from the top of the left face off circle that beat Markstrom's glove just 1:46 into the game. Michael Ryder doubled the lead with his deflection of PK Subban's point shot for a 2-0 lead with less than ten minutes gone.
After settling down over the next 30 minutes of play, it looked like the Panthers might get out of the second period only down by that margin. However, late period goals from Montreal captain Brian Gionta and Francis Bouillon (of course, his first of the season) all but put the game on ice for the Canadiens.
Florida did show a little push back in the third, thanks to the third line of Tomas Kopecky-Shawn Matthias-Jack Skille. Kopecky was credited with a goal with what was a Bouillon own goal in reality eight minutes into the third. Matthias' goal, his seventh on the season, at 13:57 made things interesting until a Kris Versteeg holding penalty gave the Habs a power play two minutes later. Ryder made them pay for the mistake with his second deflection of a Subban point shot on the night ended the night with less than five minutes to play.
Over this three-game losing streak, the Panthers have been outscored 15-5 with two of the games coming on their home ice (but, make no mistake, Sunday's game felt like the game took place at Centre Bell). With the season slowly slipping away (Florida is 8 back of the 8th sport in the East), and a schedule that features many more games on the road than at home, frustration is really starting to mount in the Panther dressing room. To wit, take a look at Matthias in Sunday's media scrum:
Peter Mueller, who sat with full gear on, minus his sweater until the media began to shuffle out of the room had this to say about his squad's play:
"We didn't show up. It's not fun, definitely not fun from the drop of the puck. We were out there for a minute and a half and they got the momentum just like that. We were battling up-ice since then."
It doesn't help that this loss comes on the heels of a Sunday morning report from the Ottawa Sun some Panthers might find themselves elsewhere in the near future. It's not inconceivable that, in the very near future, Dale Tallon might look to move a player or two if he can get the right deal. Fans have been expecting some sort of move from him almost from the opening few weeks of the season. Is this loss the one that makes him decide to change some of the chess pieces on his board?
Thanks for reading! Any and all comments are welcomed and appreciated!
Follow All Panther Parkway writers on Twitter: Me @davidlasseter, Frank Rekas @FrankRekas, Josh Luecht @eyesonsunrise, Scott Mullin @GreatScottsman, Paige Lewis @PaigeLewisFL, Gabby Kiger @gabbykiger, Amanda Land @HockeyGirl2530 and Jameson Cooper @JamesonCoop. Visit our Facebook fan page here and give us a like and share anything you wish with us.