Daily Archives:
April 6, 2013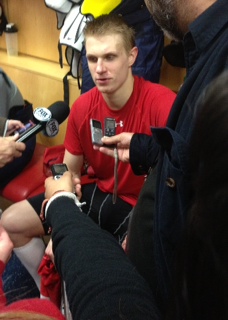 "I want to get a feel for what the NHL is like," Panthers' rookie Nick Bjugstad said upon his arrival in South Florida on Thursday afternoon. Well, after what seemed liked a guaranteed blowout early on - Nick Bjugstad got more than a "feel" for the game as he saw first hand just how unpredictable NHL action can be as the Panthers' clawed their way back from the gutter to make the Saturday night's game compelling down to the final seconds.
In an almost ceremonial fashion, Bjugstad's first steps onto the ice were greeted with loud applause as fans welcomed their newest Panther to the BB&T Center. Like he had hinted in earlier interviews, Head Coach Dineen wasn't quick to rush Bjugstad into action as the promising young forward only saw 2:53 of ice time during the first period of play. Although he was only given minimal minutes early on, Bjugstad still showed off his physical play style while dishing out two good checks on Capitals' skaters.
Throughout the rest of the game, Bjugstad saw his minutes rise each period until finally playing a grand total of 5:20 during the 3rd period - the highest single period total in his debut. Sadly for Bjugstad, the Panthers' constant stream of penalties throughout the night kept him from seeing greater minutes as the team was forced to lean on their penalty killing unit for much for the game.