Daily Archives:
April 9, 2013
Although Pittsburgh Penguins' forward Sidney Crosby has had a firm grasp on the Hart Trophy for the majority of the 2012-2013 season, his recent injury has opened up the door for several other skaters around the league to potentially take home this year's MVP award. The most surprising name now beginning to be muttered around NHL circles as a potential Hart candidate has to be the once dormant Washington Capitals' forward, Alex Ovechkin. In his last 12 games, Ovechkin has led the Capitals to the top of the Southeast Division by scoring an astounding 21 total points in that time. While these exploits may sound heroic and worthy of Hart Trophy consideration, a closer look at Ovechkin's statistics this season show that his success this year may not be as impressive as some people initially thought.
Note: Statistics are accurate as of the morning of April 9th, 2013.
A Closer Look At Alex Ovechkin's Statistics
Of Ovechkin's 25 goals this season, 15 have been scored against goaltenders who started the 2013 season in the AHL or as a backup – Bishop, Markstrom, Clemmensen, Ellis, Peters, Montoya, Enroth, Hedberg.
Of Ovechkin's 25 goals, 14 have been scored against the Jets, Panthers, Hurricanes, and Lightning – all four of which are in the bottom 8 of goals allowed per game in the entire NHL.
Ovechkin has 89 more shots than the next highest player on the Capitals' roster. This is the largest player shot disparity in the NHL - the 2nd largest is Evander Kane with 50 more shots than the next highest player on the Winnipeg Jets.

Ovechkin's Most Frequent Victims
Florida Panthers: 6 Goals Scored - Team GAA: 3.36 – 29th in the NHL
Carolina Hurricanes: 3 Goals Scored - Team GAA: 3.16 – 28th in the NHL
Winnipeg Jets: 3 Goals Scored - Team GAA: 2.95 – 23rd in the NHL
Buffalo Sabres:  3 Goals Scored - Team GAA: 2.92 - 22nd in the NHL
What Does It All Mean?
Upon closer review of Ovechkin's impressive goal total this season it seems as if I have found a common trend. While there is no doubt that scoring 25 goals in just 39 games is very impressive regardless of the circumstances, the fact that Ovechkin has seen the majority of his success against inferior opponents should factor into his Hart Trophy consideration.
Read the rest of this entry →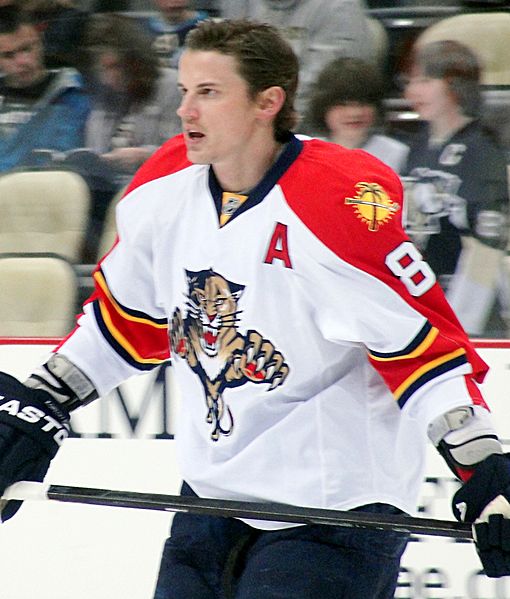 I've never been really been a fan of the saying "he plays the game the right way", but after watching Panthers' forward Tomas Kopecky over the past several weeks - I am inclined to re-think my position on that term. Already one of the Panthers' alternate Captains since last season, Kopecky was thrust into a larger leadership role this season after injuries initially limited  and then eventually ended Captain Ed Jovanovski's season. Although the letter on Kopecky's sweater remains an "A", he has been looking like a Captain in recent weeks while leading the team through impressive and gritty play every night.
With the season almost over, Tomas Kopecky has already tied his career goal total after he lit the lamp for the 15th time this season on Saturday night against the Washington Capitals. Amazingly, Kopecky has reached the 15 goal plateau in just 39 games this season - a far cry from the 81 games it took him during the 2010-2011 season with the Chicago Blackhawks.
However, even though he is putting up career numbers, Kopecky's accomplishments are not limited to his point total. Playing just over 17 minutes a game, Kopecky constantly finds himself on the ice and making a difference on both ends. In fact he currently sits 2nd on the team in takeaways with 21, 2nd on the team in shot percentage with 18.1%, and leads all Panther forwards in blocked shots with 24.
On special teams, Kopecky has been a menace on both the power play and penalty killing units. This season, Kopecky has played the most shorthanded minutes of any Panther forward with a grand total of 73:30 thus far. On the power play, Kopecky has recorded 80:39 and earned 9 points - including 4 goals. Considering how many injuries the Panthers have had to deal with this season, Kopecky's ability to play in any situation has been invaluable to a team that has had trouble fielding a steady lineup.

What better way to spend your lunch break than catching up on all of last night's amazing NHL action that you may have missed! Here are the top stories and videos from the all of yesterday's action around the NHL.
Anton Stralman of the New York Rangers should considering switching to soccer after this terrible dive.
The Islanders could be moving to Brooklyn sooner than expected. [SNY]
Sidney Crosby is feeling better, but James Neal may have a concussion. [TSN]