Author's Note: For those of you who remember my draft preview from last year, you will remember that I focused more on draft strategy instead of actually ranking players. That isn't changing and you will notice that I've used the majority of last year's article again this year with more commentary thrown in. It's not because I'm lazy, it's because none of my beliefs have changed. So if you read this piece last year, I apologize for it feeling repetitive, but if it is your first time, I hope you enjoy a different kind of draft preview and let me know what you think.
Let's get this out of the way immediately. If you are looking for an article breaking down who the Panthers may draft at pick 13 on Friday, you are in the wrong place. The truth is, I could write that article, but it would be doing exactly what you are doing and what 95% of the people writing that article all over the NHL are doing. I'd pull up the Central Scouting prospect rankings and then start watching YouTube highlights of all the players ranked from 10-20 and then giving my thoughts on each player. That's it. This isn't college football where the top prospects are all over ESPN every weekend in the fall where anyone can watch prospects play multiple full games and give a reasonably informed opinion. Most people writing these articles haven't seen these prospects play more then a couple games in the U20 WJC and then want to pass off their opinions as gospel.
You can't analyze some cherry picked highlights and give an honest evaluation of a player and discuss how they would fit on the Panthers. It's a waste of your time and nothing but click-bait. If you really want nuanced draft prospect rankings, I highly reccomend reading Corey Pronman of The Athletic. He has some of the most detailed draft reports out there and spends time watching most of the North American prospects live and watches plenty of film on the European players.
The Florida Panthers have historically been one of the worst drafting teams in the NHL. There are a multitude of reasons the Panthers have missed the playoffs 20/25 years, but getting the draft wrong sits right at the top of the list. Sometimes it was ownership trading down from #1 overall in order to save a bit of money (2002/2003), but most of the time it was simply picking the wrong guy for a number of reasons. While that trend seems to be reversing lately, there is still a long way to go before this team can consider itself one of the best drafting teams in the NHL. So this is article is going to discuss what I think is a proper draft strategy for the Panthers in a global sense while using examples from past drafts to try and explain that strategy.
Scouting
I am going to start with the obvious. The key to winning the draft is scouting. If you don't have good scouts, you will never succeed in the draft. NHL scouting is unlike any other sport in the world. An NHL team has to scout the NCAA , the three CHL leagues, as well as the many leagues in Europe. Teams have to cover all this ground with a staff of around 8-15 scouts. The Panthers are on the lower end of that number with 8 amateur scouts. For comparisons sake, the Miami Dolphins have a scouting staff of 10 and only have to cover college football in the United States. To simplify it, hockey teams have much more ground to cover with a scouting staff roughly the same size as teams in the NFL.
It's pretty simple. There is a lot of ground to cover and a limited amount of people to do it. In case you are wondering, if a team wanted to hire 20 scouts to split up the work, they absolutely could. But 20 scouts costs a lot, so… This is why having a good scouting staff is important. You need great people doing this job who can make good evaluations quickly to make sure they can scout as many players as possible.
If you want an example of how great scouting can make an impact, look no further then how the Lightning have dominated Russia over the last 8 years. In that span they have drafted 10 players out of the Russian Jr. program. Players like Nikita Kucherov, Andrei Vasilveskiy, and Vladislav Namestnikov  have already made substantial impacts in the NHL.  None of those players were drafted earlier then 19th overall. When you can dominate a hockey rich country like Russia with your scouting department, it gives you a massive leg up on the competition. Unrelated note, if I'm Vinnie Viola, I approach whoever scouts Russia for the Lightning and give him a blank check and whatever title he wants that isn't "Director of Scouting." I honestly can't believe nobody has stolen this guy yet.
To the Panthers' credit, they have arguably the best scout in Finland with Jari Kekalainen. Kekalainen is credited with convincing Dale Tallon that Aleksander Barkov was worth taking at #2 overall instead of the higher ranked Jonathan Drouin and Seth Jones. He was also the one who lobbied for Henrik Borgstrom to be drafted at 23rd overall in 2016 despite him graded as a third round pick by almost everyone else. Even though Borgstrom struggled in his first NHL season, the majority of the NHL still sees him as an elite prospect and Borstrom is routinely ranked as a top 10 prospect from that draft class.
Due to the small size of staffs and the large amount of area to cover, many teams rely on relationships with CHL teams to do a lot of the heavy lifting for them. This is especially important when it comes to finding those diamonds in the rough in the later rounds that become stars. If a team has a good relationship with a CHL team, they are going to get those honest opinions that can be the difference between drafting a bust or star. For example, the Tampa Bay Lightning have a very good relationship with the Moose Jaw Warriors of the WHL. Former Lighting GM Steve Yzerman has allowed the Warriors coaches and front office to spend time with the Lightning over the past few years to see first hand how things are done at the NHL level. Because of that relationship, when the Warriors staff told Yzerman to ignore the size concerns with Brayden Point, he listened and drafted Point in the third round of the 2014 entry draft. Five years later, the Lightning have another premier forward in their lineup while the rest of the NHL is asking their scouting staff how they missed on Point.
I'm not saying the Panthers don't have these relationships, I am sure they do, but what I am saying is that building these kind of relationships is extremely important and should be a focus for the Panthers, especially because they have less scouts then most other teams. 
To wrap it up, scouting is the most important aspect of the draft process. If you don't have good people doing the legwork to get the best information possible, you have no chance of  beating the other teams on draft day.
Prep-work is obviously the most important, but what you do on draft day is where the franchise changing decisions are made. In my opinion, there are four keys to drafting well. 1) Draft for elite talent at every pick. (It seems self explanatory,  but it isn't) 2) Take the best player on your board regardless of position. 3) If you have a conviction on a player, don't wait to draft him hoping you can get him later. 4) Don't overvalue picks in the middle to late rounds, use them to get NHL players when possible.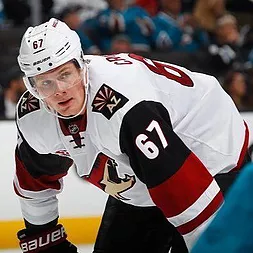 Go Big or Go Home
The first point of draft for elite talent may seem self explanatory, but in reality many teams don't follow it, the Panthers included. This is especially important when drafting in the first two rounds. If you are confused by what I am talking about, you will see it tonight. At some point in the first round, a player who doesn't have the gaudy stats of the players around him will be drafted. The talking heads will immediately start talking about that players effort level, how he is a future captain in the NHL, or any other intangible related platitude. The highlights will start playing and you will see a bunch of  "dirty" goals mixed in with a few pretty plays. Another dead giveaway is when you start seeing highlights of a pretty dangle that doesn't end with a goal or at least an excellent shot/pass where the goalie made a great save. This is when the key phrase comes, "once his offensive game develops, blah blah blah, he will be a first line player." There may even be a comparison to a former legend like Steve Yzerman. 
Here is the honest truth, the guy who that team just drafted that was compared to Steve Yzerman has a 99% chance of never coming close to being as  good as Steve Yzerman, because the reality is that offensive game is the hardest thing to develop at the NHL level. Also, if every draft pick came close to their player comparison, every team in the NHL would be filled with All Star Caliber players. The defenders and goalies are bigger, stronger, faster then anything these kids have ever seen before. Why on earth would you take a risk that someone's offensive game is going to improve going from playing against 18 year olds, most of whom's career will never go past the CHL to playing against men?  BTW, the same thought process also applies to drafting defenseman but look for phrases like "stay at home, puck clearing, and goalie's best friend."
If you are now thinking to yourself, what's wrong with drafting a good bottom 6 forward/bottom pairing defenseman with your first round pick? What's wrong is that bottom 6 forwards and bottom pairing defenseman are found in free agency for bargain contracts every year in free agency or via trade for a mid-round pick. There is no value to having a penalty killer on an ELC. Paying a 60+ point player 965k though is massive value. Need an example close to home? Alex Petrovic was traded for a 3rd round pick. What is he? A bottom pairing defenseman. He was drafted 36th overall in the 2010 draft. Need another one? How about Erik Gudbranson drafted #3 overall. Listen to the talking heads…
I'm not saying that stay at home defenseman and bottom 6 forwards aren't important. I'm not saying intangibles aren't important. They are and you need some good ones to win a cup. But the most valuable assets in hockey are young goal scorers and young puck moving defenseman. Having as many of those as possible in your lineup is how you have 10 year cup windows.  So when a team is drafting, they should always be looking for guys who have elite skill that project to be front line players. If you can find an elite player who also has great leadership qualities, outstanding, but talent trumps leadership at the draft. 
Obviously as the draft goes on, those players are harder to find because that's the nature of the draft. The guy you draft at pick 30 is not as good as the guy drafted at pick #1. So what teams should be doing is drafting players with an elite skill and hoping to teach the rest. For example, Mike Hoffman was a 5th round pick in 2009. He came into the draft with a great shot but needed a lot of work everywhere else. Well he put in that work and is now a 60+ point player in the NHL. If I didn't hammer it home enough before, I am going to do it one more time. Don't waste time with players who have a role player game, hoping they will develop into a star because you will end up having spent a 1st round pick on a role player. The Panthers followed this strategy when they took Grigori Denisenko at pick 15 last year. At the time he had some attitude and effort concerns, but the talent is undeniable. One year later, that talent is real. Denisenko was tied for the scoring lead at the U20 WJC tournament last year and is considered one of the best prospects in the NHL. He tied with Heponiemi by the way.
Final note, I do love what the Panthers did drafting Maxim Mamin in the 6th round in 2016. They drafted a developed player late who they knew would make the NHL even at just a bottom 6 role. Maxim Mamin has since returned to the KHL, but the Panthers got 33 NHL games out of him. IMO it should have been more, but the now departed Bob Boughner seemed to not like Mamin's game. Late in the draft, get all the grit and character you want, but at the top, chase Barkovs, Huberdeaus, Ekblads, and Mathesons.
Don't Reach. EVER
Point two is pretty simple. Take the best player on your board. Don't reach for need. Unless you are picking at the top of the draft, it's very likely that whoever a team drafts won't see the NHL for a few years. For example, just like last year, the Panthers need a defenseman. They don't have much depth in the minors at the position either. It would make all the sense in the world to draft a defenseman. But what if there is a run on defenseman early in the draft and at pick 13, the best defenseman left is ranked 25 on their board and there is a center ranked 12th still available? This is essentially what happened last year. The run on defenseman happened with 6 being taken in the first 14 picks which was the entire top tier of the D-man crop last year. Instead of reaching, the Panthers took Denisenko despite it not filling a need and as of now, it was 100% the right decision.
While I said I wouldn't get into player specifics, I will on one player in this draft. Goaltender Spencer Knight is the only goalie in this draft class with a 1st round grade. I will be completely honest and say I've seen this kid play maybe 3 times. I don't know a thing about him. But I have seen many smart people say he has gamebreaking talent and that he projects to be a goalie who will steal games for his team. He has been linked to the Panthers in a few mock drafts and I can see why. The Panthers have a goalie problem and Spencer Knight would give the Panthers one of the best goalie prospects in the world. Sorry, Montembeault fans, but he would immediately become "the goalie of the future" for the organization. But goalies are impossible to project. That's why you rarely see goalies drafted in the 1st round anymore. They are way too volatile. However, if you have a conviction on Knight, take him. Best case scenario you get an elite up and coming goaltender who can grow into the role of a #1 goalie as the Panthers starting goalie of the next 5-7 years COUGHBOBROVSKYCOUGH ages.
If you draft by need, the Panthers are going to take the defenseman. That would be a mistake because who knows what the roster is going to look like in two years. Ian McCoshen could have made a leap and is now a top 4 defenseman. Max Gilroy could have done the same. What if two years from now Vincent Trocheck is asking for a trade? (knock on wood) The fact is that we don't know, so always take the best player on the board.
Trust Your Gut
Third, if you have a conviction on a player, don't wait. Some GMs make the mistake of being too cute with the draft. They tell themselves that they are the only one who discovered that diamond in the rough and  can wait until the 6th round to take him only for another team to draft him in the 4th round. Here is an example. Heading into the 2012 draft, the Chicago Blackhawks were given a tip that there was a kid dominating the low level Alberta Junior Hockey League. Chicago quietly sent a scout out and discovered that this kid was a star in the making. They made no other trips to see the kid so other teams wouldn't discover him. Draft day rolls around and the Hawks planned to take him in the later rounds because they knew nobody else knew who this kid was. In the third round at 86th overall, the St. Louis Blues drafted Colton Parayko. Stan Bowman immediately called Blues GM Doug Armstrong and asked how he knew about Parayko. He told Bowman that he had been tipped off as well. (Remember what I said about building relationships with Junior Programs?)
To the Panthers' credit, they know this lesson well. Ex. Henrik Borgstrom.
Here is the dirty secret about the draft. Of the 217 players who are drafted tonight, most will never play in the NHL and even less of them will play 100 games or more in the NHL.  In a pre-2017 draft article by TSN's Scott Cullen, he showed that history shows 30% of players drafted in the middle of the 3rd round play more then 100 games in the NHL. Of that 30%, 88% of those players play bottom 6 roles or worse. The numbers get much worse the further down you go. So what does that tell you? Don't sweat trading away mid-round picks for players who will help your team next year. Here is the best way to explain it…
That brings us to the draft on Friday. What do I expect Dale Tallon to do? The Panthers need a new #1 goalie, more scoring, and a top 4 defenseman.  Obviously the draft itself likely won't provide answers to any of those problems, but for the next week, Dale Tallon will be in the same city as the rest of the GMs in the NHL. There will be a lot of discussions over a drink in Vancouver over the next 7 days that could result in a deal that addresses those issues.
A few weeks ago, George Richards of The Athletic stated he believed there was a 50/50 chance the team traded it's first round pick for help now. However, in a recent interview with Tallon, he stated that he will likely hold onto the pick. Not going to lie, I'm not surprised. Tallon loves the draft. He treats each one of his picks like absolute gold. Even with all the promises of aggressiveness, it was always hard to picture Tallon actually trading that 1st round pick. He also stated that he doesn't intend to trade draft picks for the negotiating rights to any players. Remember, the exclusive negotiating window ends Sunday. As of Monday, teams will be allowed to contact any UFA's they want.
When it comes to trading for UFA rights, I believe him. At this point it seems to be a foregone conclusion that Sergei Bobrovksy is coming to the Panthers. The Panthers want him here and he wants to be here. Why trade a draft pick to fast forward that by two weeks? Where it gets interesting is Artemi Panarin. I don't expect the Panthers to trade for his rights. This is just speculation on my part, but the only way Panarin doesn't make it to July 1st is if someone does a sign and trade that gives him an 8 year contract. Notice the difference. A sign and trade isn't trading for a player's UFA rights. While I'd put the odds of a sign and trade a lot lower then I would have a week ago, it still could happen in the hours leading up to the draft.
Obviously, Tallon doesn't always tell the full truth in interviews. It wouldn't be that much of a surprise if he does trade that 1st round pick as part of a trade for a defesneman. If a Panarin deal gets completed, I would expect to see Mike Hoffman's name get thrown around a bunch this week as well. If not, Hoffman will likely remain with the Panthers until the week of July 1st when the Panthers will finally know one way or the other if they will be signing Panarin. One name that will almost certainly find a new home this week is James Reimer. 
One thing is certain, this should be a very busy week for the Panthers. Something could happen at anytime, so I highly recommend setting some Twitter notifications on your favorite NHL twitter accounts. 
Hope you enjoyed this draft preview. As always follow me on twitter @CF3234 to let me know what you think.