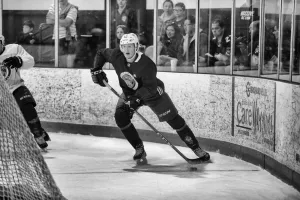 Image Property of Kim Smith
Season break down: The 2018-2019 season for Henrik Borgstrom went a lot like the Florida Panthers season. Some bright spots, but overall didn't meet expectations. We could say that about a lot of players, especially if you look in the direction of the defense and goaltending.
Many fans penciled Borgstrom in for a spot on the 3rd line with Jared McCann and Denis Malgin, on the opening night roster. With McCann centering the line, this left Borgstrom, out of his natural position, on the wing much of camp. The rookie hit a wall after a few weeks and was subsequently sent down to Springfield. Disappointed in his camp, Borgstrom showed maturity in blaming no one but himself for not securing a job with the big club. He knew he had to add more to his frame in order to play consistently in the National Hockey League.
With Borgstrom opening the season with the Springfield Thunderbirds, not all was lost. He would be getting top line minutes at his natural centerman position. This would prove to be the right move, as Borgstrom led the Thunderbirds with 4 goals and 7 assists in his first 10 games. The Thunderbirds flew to a 7-1-2 start. Borgstrom would continue to showcase the play-making ability that earned him his nickname "The Artist" and the reason why the Panthers took him 23rd overall in the 2016 draft. He was named as the AHL rookie of the month in October, with no signs of slowing down.
By mid-November, injuries to key players in Sunrise started to mount. Vincent Trocheck was sidelined with what looked like a horrific, possible career-altering injury. This left a spot open on the 2nd line. A few weeks following the injury, it appeared no one could replace what Trocheck brought to the team. On December 14th, Borgstrom was called up to help fill the void. He finished his season with 22 points in 24 games for the Thunderbirds.
In his first NHL action of the season, Borgstrom put up 3 goals and an assist in 8 games. By New Year's, the Panthers had won 6 of the 8 games he played and not only looked like they had somewhat stabilized their top 2 lines but they may have dug themselves out of their early-season hole. During that span, Henrik didn't look out of place and looked exceptional on the defensive side of the puck. Something that was sorely lacking with the big club.
Fast-forward to mid-January, Vincent Trocheck made a surprising recovery from his injury in November was was inserted into the line up on January 18th. The Panthers still thinking they had a shot at making the Stanley Cup play-offs, relegated Borgstrom down to the 3rd and 4th line. He had a forgettable game in Toronto (Trocheck's return), by his own admission and things weren't the same after that. Bob Boughner appeared to keep Borgstrom in the dog-house, barely giving him more than 10-minutes of ice time per game or scratching him. This drove a few of us on Panther Parkway a little nuts. Borgstrom had a few glimpses towards the end of the year but ultimately didn't play much to finish the season. He finished the season with 8 goals, 10 assists and a -14.
The Grade: For the 2018-2019 season, I give Borgstrom a C. He was thrown into a situation that didn't give him the chance to make mistakes. The team wasn't playing great defensively and had issues stopping the puck in net. He played conservatively, because of this. His offensive prowess had to take a back seat in order to be responsible.
What he needs to work on into this off-season:
Put on weight, so they he can play among strong competitors for an entire season.
Confidence, this is why he was sent down to Springfield. He was able to find his game and confidence there and was able to translate it at the NHL level for a bit. However, one bad game was enough to crack it.
Nothing in my opinion has changed from last off-season to this off-season as far as what he needs to work on. I expect him to put on some weight and compete for a roster spot on opening night centering the 3rd line. That is, if everything stays status-quo. Hopefully having a more tenured coaching staff will be confident in his abilities and allow him to be confident to take more chances offensively.
For you viewing pleasure, via NHL.com here is Henrik Borgstrom 2018-2019 highlights.
Thanks for reading. Please follow me on Twitter @prudentia0