That's Not My Name
It's been a while, but I can still remember…well almost. Looking back it was 2017 since I laid out my version of the of the player's nicknames. Many of those guys have left the team and we have a whole host of new Cats.  Even though I play the sport (albeit MUCH slower and with zero skill), I do not prefer the standard hockey nicknames like Shoresy or Jonesy. Although it is fun to crack on their moms. I digress. A nickname should be quick, identifiable, humorous, and have staying power. Maybe it's a little deprecating and might cause a few to shake their heads, but they can be endearing.  So, just as the new sheriff Bill Zito has revamped the roster into a contender, it's time to update the nickname list. Here goes:
5 - Aaron Ekbald,  Ole Chin Strap from that Paul Bunyan-esque beard he sports. But no, my wife always says eggplant when she hears his name during the games. So Eggplant it shall be. It's a popular emoji with boys these days. 🙂
7 - Radko Gudas,  We've heard The Butcher from our beloved sportscasters and it's good because he just cuts guys up with devastating hits. But I grew up with Popeye, and the big bully on that cartoon was Bluto. Plus he would hammer Popeye and had a bushy beard. Bluto it is.
8 - Ben Chiarot, He's a newb so I had to come up with a quick placeholder. Chariot of Fire. The Chariot for short.
9 - Sam Bennett,  He's becoming one of my absolute favorites. We've heard The Lorax and it fits. It's easy. I have been calling out Get Bent when he does something good, so I will stick with that. Get Bent baby.
10 - Anthony Duclair, I have to give the nod to my buddy Nick who constantly fights the auto correct on his junky eight thousand dollar iPhone. He mistakenly called him Duckair, so it stuck. My call out is "Teach me how to Ducky".
11 - Jonathan Huberdeau, Goldie (aka Annoying Orange) cemented this fellar's moniker with the ever present Hoooooooobie Dooooooobie Dooo. So, The Big Dawg it will be. Zoiks.
13 - Sam Reinhart, It's a play off his typical hockey name of Reino. And since I have long attempted to stupidly joke that a Rhino looks like a mean unicorn and we wear red at home, I have dubbed him The Red Unicorn. It's a stretch, I know.
15 - Anton Lundell, Another play on a traditional hockey name. Rodney Dangerfield went Back to School and was made famous for his Triple Lindy. So, we have Triple Lundy.
16 - Aleksander Barkov,  I really cannot stand his generic name of Barky. It reminds me of the princess in Coming to America that barks on command. I prefer a nod to mark Twain and since Sasha is my favorite Finn, he shall be known as Huckleberry. I'll be ya Huckleberry.
17 - Mason Marchment,  This fellar grew on me immediately. I watched his Pappy wreckingball fools back in his day and Mason does it, but in his own way. We've heard Mush, but I think he looks like an MTV all star, Beavis he shall be. Seriously, Google it, 🙂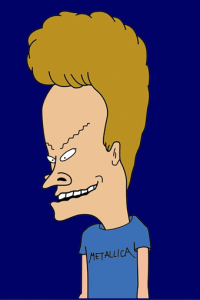 18 - Robert Hagg, Another newb. Fairly steady on the back end. As a place holder, you know the trade phone call was a pleasant surprise. His interim nickname is Lucky. Because that is exactly what one is when they go from Buffalo to, well, anywhere.
19 - Joe Thornton,  Geeeez, what hasn't the big fella done. He looks like he should be blowing on an old whiskey bottle in the Country Bears Jamboree (some of you will remember). Or that crazy bearded duck call show that was huge for a minute. Puck Dynasty is a good play.
23 - Carter Verhaeghe, Simple, The Hague. It's a whole city. And it's just easy to say.
27 - Eetu Loustarinen,  I love hearing Red Deer butcher this kid's name. Hell, I can't really say it either. I have been calling him The Star Man, but my first love as a kid was Star Wars and you cannot beat an astromech droid, E2D2 it is.
28 - Claude Giroux,  He's hilarious. And French. But I won't hold that against him. One of the funniest NHL videos I have seen is Giroux chirping Van Reimsdyke, calling him a Pigeon. So, Le Pigeon it is. Sorry Claude, but you earned this playing with Huberdeau, as the pigeon.
30 - Spencer Knight, He's a kid. And probably the nicest human being on the planet. I gotta think more on this one. As a place holder I will go with a reference to The Holy Grail, and dub him as Kinniget. For the French soldier chirping the Python Boys from the castle.
32 - Lucas Carlsson,  This nickname is one of my favorite ones and definitely exposes my age. You youngins will just have to deal with it. Carlsson is Viking for Carl's Son. Carl Reiner's actual son is Rob Reiner. Rob Reiner was Meathead from All in the Family. Meathead it is.
35 - Jonas Johansson,  We haven't really seen this guy. JoJo will have to do.
42 - Gustav Forsling,  This dude is slick with a capital S. He can wheel. I cannot do much better than Bobby Orrsling, so there it is.
52 - MacKenzie Weegar, Talk about somebody missing his bestest buddy and big toe, Aaron Ekblad. My earlier nickname is still my favorite for him. 8-Mile. Figure it out, again.
55 - Noel Acciari,  Quite possibly the craziest Cat out there diving in front of bombs from the point. There you go, Cherry Bomb.
62 - Brandon Montour,  From Greek mythology as the first infernal guardian, The Minotaur. It's a dude. It's a bull. Can't get much better than that.
65 - Markus Nutivaara,  We haven't seen much of this guy either. How bout Peter Pan, 'cause it can be quite nutty when it's the crunchy kind.
70 - Patric Horqvist, One of my all time favorite movies is O Brother Where Art Thou. One of the characters is Pete. Pete gets turned into a Horny Toad by the sirens. Pete will do.
72 - Sergei Bobrovsky,  I'm afraid to even come up with a nickname for this fellar. He's been shattered out there of Late. It's not a good time Bob.
94 - Ryan Lomberg, Top 5 movie is Office Space. Funny scene is a dream scene where the boss Bill Lumberg is…well…engaged in…um….well…you know. The call is always "What happened to that opposing player?" The reply is always Lomberg effed her.
98 - Maxim Mamin,  Easy the Mammogram.
40 - Petteri Lindbohm, This guy is a hitting machine. The Lind-Bomb will have to suffice for now.
I love coming up with these stupid nicknames. Mostly they are plays off their names tied into movie or TV show references. Plus I just like being different than the regular crowd. I know most of you will revert to Barky, or Hoobie, or Horny, or Reino, and they are good, but they don't have the malice of forethought or a personal touch. So enjoy, and I will try and update these are we go along. #TimeToHunt