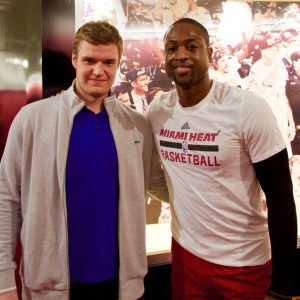 I hope everyone is alive and well after last night's cardiac arrest trigger of a hockey game. I'm assuming you all had a great evening of trolling Leafs fans and living your best lives on Twitter. Now, if you read Part One, welcome back and congratulations on being a sports fan who doesn't completely trash sports other than your favorite one! One of the main influences for this article series was the constantly present comment on every Florida Panthers post we are fortunate enough to see on ESPN's social media platforms. Stop me if you've read this one in a comment section before…"Put this in basketball terms." Now, this is not necessarily malicious or a knock against hockey from basketball fans however annoying it may be. And, I think it is equally idiotic when hockey fans go out of their way to mock anyone who watches basketball by saying basketball isn't a real sport and the players are all soft. So this was an idea to merge the two sports in a way we can all understand and appreciate, and what better way to do that than to compare our 2021-22 Panthers to the best team South Florida has had in the last 10 years in the 2012-13 Miami Heat? 
Our fanbase is actually pretty good about appreciating all the sports we have access to here in the area. I don't often see Panthers or Heat fans discrediting each other's sport, and I have seen all kinds of interaction between the two. I mean, they shared an arena with each other before so of course they support each other's seasons. I've seen Bam Adebayo drop a puck at a home game, Anthony Duclair and Udonis Haslem getting to know each other, Jonathan Huberdeau (always) sitting courtside next to the Heat bench, and who could forget Sasha Barkov and Heat legend, Dwyane Wade introducing themselves to each other after Wade flew into the crowd after a loose ball and accidentally kneed our star center right in the forehead?
"I'm all good, thanks for checking 😂. Now I know that next time I sit court side I need to wear my gear" pic.twitter.com/kH21NNqjHZ

— Aleksander Barkov (@Barkovsasha95) December 4, 2018
We should definitely all be on both bandwagons as the Cats and the Heat both currently lead their Eastern Conferences with the playoffs right around the corner. I'm just saying, I can free up enough time in my schedule for two parades.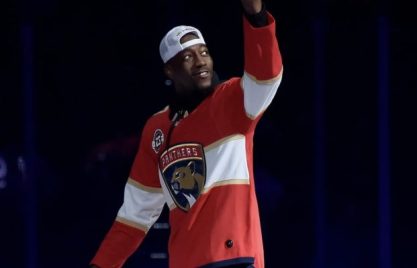 Apples to oranges
We all know that old saying when two things don't really make sense in comparison, and you say "it's like comparing apples to oranges." Well, I have always thought that was stupid because I don't care if it's apples or oranges or any other fruit, they all go together just fine for me. So today we're gonna compare some 2022 Florida Panthers to the 2013 Miami Heat in a South Florida sports "multi-verse of madness."
Big three
This is probably the easiest set of comparisons to make, and anyone who knows anything about these two teams would have to agree. The Panthers had just drafted the final piece of what we now know as their Big 3, just as the Heat's version was finishing up their four year run. Maybe the sports gods required us to usher one era out to allow the new one in. I don't know, but there are some real similarities to me.
Barkov is our hockey Lebron. Talk about a do-it-all player who excels at absolutely everything and leads the team in whatever area is needed on any given night. Lebron, who I know has not been forgiven by all Heat fans, was to the Heat's success, what Barkov is to the Panthers now. A dynamic two-way force who can dominate the game on both sides of the offense-defense scale. Barkov is nothing short of one of the top 5 best players in the entire world and is without a doubt the most well-rounded player in hockey. I'd go as far as to say that if not for a six-week knee injury this year, he'd be the leading candidate for the Hart trophy right now. He'd be on pace for 49 goals and 61 assists for a total of 110 points while leading the best team in hockey. If the Panthers win a cup, you can bet he'll be the favorite for the Conn Smythe which would be the equivalent of Lebron's Finals MVP.
Huberdeau is the hockey version of Wade. In the words of "Zook" from 22 Jump Street, "It's like Batman and Robin but…We're both Batman." That was definitely the case with Wade and Lebron, and we can't deny that Barkov and Huberdeau are on that same level now. Now this might be disappointing to Sasha since Wade is his favorite player and he took a knee to the dome from the guy, but the answer is still "Huby-Duby-Do" as Florida's D-Wade. The longest tenured Panther, who holds the Cats record for games played, assists, points, points in a single season, and basically became the leading man for the franchise as the first pick in their complete rebuild. Now who does that sound like if you swap Panthers for Heat? Not to mention the absolute highlight reel flair and flash both guys put on display in their styles of play. Here's hoping Huberdeau will bag a few rings and retire a Panther one day just like #3 did in Wade County.
Aaron Ekblad is definitely Chris Bosh on ice. He is the anchor of the defense, but make no mistake about his offensive ability out there or else he will light you up if you let him. Ekblad, like Bosh, is the most underrated of the three superstars. Ekblad hasn't been to an all-star game in years despite having back to back seasons worthy of Norris trophy consideration until ended by injuries. This time around though, he has a chance to return for the playoffs and leave his mark on the Cats run to a Stanley Cup. Bosh once suffered a late season injury, and when he returned in a post season series against Boston, helped push the Heat over the top. You can't have a big three without a Bosh or Ekblad.
The underdog
No one, and I mean absolutely no one in HEAT Nation can ever discredit what Udonis Haslem means to winning, and the fact that he has carved out such a successful career for himself, getting it the hard way is a testament to his legacy as a champion. Mackenzie Weegar has all the makings to be that guy for Florida. A seventh round pick typically seen as a throw-away selection that late in the draft has somehow made himself a vital part of the team after grinding all the way from the ECHL to being a top pair d-man. Just like Haslem, Weegar has made himself a core member of a championship caliber team and he embodies everything about the Panthers identity and grit. Patric Hornqvist definitely fits this mold as well, he just had his "Haslem years" in Pittsburgh with the Pens.
The decorated veteran contributor
The Heat had just won a championship, but they still recognized a hole in their rotation so they went out and got veteran, sharp shooter Ray Allen. Even the Heat didn't know how important he would end up being to their championship run, and the Panthers seem to have done the same at this year's trade deadline. The Panthers acquired Claude Giroux who, like Allen in 2012, has plenty left in the tank and is ready to contribute in the playoffs as a secondary option instead of being a go-to guy like he has been his whole career in Philly. He was right on time in the win over Toronto, and I really feel like Giroux is going to emerge as one of our most clutch playoffs performers this year just like Ray Allen did for Miami. Let's just hope Giroux isn't asked to save our season with five seconds left in an elimination game like Allen did. We may win, but I may die.
The role players
Anthony Duclair is known for his offense, and his ability to contribute on so many different lines. He is also streaky meaning he can be quiet at times and suddenly just erupt on the offensive end of the ice. A fair comparison would be Mike Miller who, best known for a clutch three pointer while wearing one shoe, had a role in his time with the Heat for being instant offense as a shooter when the Heat needed some scoring punch. That sure sounds a lot like Duclair's role with the Panthers, and let's hope it carries into the playoffs.
There are two guys that take the title of most versatile role player and those two are Sam Reinhart and Carter Verhaeghe. No one gets moved around the lines quite as much as these two do and they always find ways to contribute and get on the scoresheet. In this way, they remind me of former Heat Swiss army knife, Shane Battier. Battier could play several positions, and could always be counted on to give maximum effort and hustle, like "Swaggy," and also shoot the lights out when given time and space like "Reino."
The enforcers
If you followed Heat basketball at this time, there was one man on the Heat who was truly feared by much of the league because of his unpredictability and just his frightening appearance. That was Chris "The Birdman" Andersen. Birdman showed no fear of anyone, and he would square up with the NBA's toughest and meanest. Birdman showed no hesitation to defend his teammates, and he was quick to hype up the crowd after making a play. A trio of Panthers fit the bill. Radko Gudas for his punishing, defense-first style gets a share of this title. Mason Marchment for his ability to score the greasy way and welcome the punishment that goes along with the role is the second "Panthers Birdman." And last, but definitely not least is Ryan Lomberg who gets a piece of this section for his fearless, body on the line, fan-favorite style of energetic play. Plus, he has the most iconic hair on the team which Birdman definitely claimed for Miami back when he donned the mohawk.
The wild card
A crucial part of Miami's championship teams was the point guard who everyone who followed the team had trust issues with. This player frequently had fans on an emotional roller coaster starting with something along the lines of "No, what are you doing?!" and ending with "well, that was a big shot." That was Mario Chalmers. He made his fair share of boneheaded plays and got yelled at…a lot. But, he was a key cog in the Heat engine. Does this sound like Sam Bennett to anyone else? Since joining the Panthers at last year's trade deadline, "Benny" has been a fixture in the Panthers top six. With that responsibility, he has seen an increase in ice time. With that, has come a healthy dose of questionable decisions that have us as fans annoyed to death. Until he scores a game winning goal or punishes someone with a big hit or fight. Or like last night, relentlessly wins every board battle on the Cats way to a miraculous comeback. He is hockey's version of "Rio." You don't always know what he's thinking or why he's doing the things he's doing, but it will most likely turn out alright in the end.
The wheels
A player from those championship teams that doesn't get talked about much is backup point guard Norris Cole. He was an addition to the Heat that didn't make headlines, but he became an important piece of the rotation when he worked his way into the lineup with his speed, defensive ability, and the touch to chip in with some offense here and there despite his small size. Gustav Forsling has entered the chat. Much like Cole, "Orrsling" has serious speed and a real prowess for staying stride for stride with skaters before stripping the puck from them. He can score some too when given the chance, but the name of his game is pushing the pace and playing defense.
Paint protector
The Heat had a paint guardian who got more playing time than he probably should have, but in all honesty, he just did his job quietly and effectively on the way to championship titles. In these ways Ben Chiarot is a lot like Joel Anthony. Not everyone will like it when he gets as much playing time as he inevitably will come playoff time. But, he is here to simply do his job and "protect the paint," no more, no less.
The Panthers have all the makings of a Stanley Cup contender, and the playoffs are right around the corner. Maybe I see the comparisons because I feel better about our chances if we stack up to our last ring-winner. Or maybe there's a winning formula in South Florida and the Panthers made their own hockey-style copy. Whatever it is, I can't wait to see how the rest of this ride unfolds.
Thanks for reading! If you enjoyed this article, let us know in the comments! Are there any athletes from other sports teams past or present that these Panthers remind you of? We'd love to discuss in the comments @PantherParkway and @LO_FLAPanthers on Twitter!