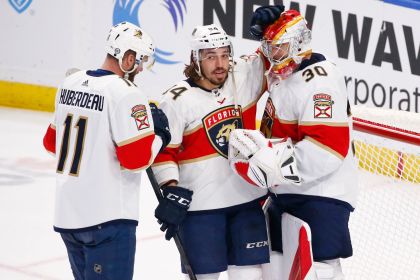 What a 24 hours for the Florida Panthers. After coming back from 6-2 in New Jersey to win in Overtime, the Florida Panthers had to quickly hop on a plane and head to Buffalo for yet another matinee matchup on Sunday afternoon. Once again, the Panthers had to deal with some adversity as the opposition scored first once again when Kyle Okposo tipped a puck in the net for the first goal of the game at 17:13 in the first period. Panthers did not come out flat like they did against New Jersey in this one.
An Unforced error by the Sabres in their own zone led to new Panther Claude Giroux to grab the puck and dish it to Jonathan Huberdeau who nails a wrister from the slot as he was cutting to the net to tie it at 1. That goal officially broke the Panthers franchise record for points in a season with 97, breaking Aleksander Barkov's previous record in 2018-19 at 6:18 of the 2nd period. For the second straight game the Panthers had a period where they got 20+ shots on goal in a period. Had 23 in the 3rd against New Jersey, 22 in the second against Buffalo, both those periods combined for 7(!!) goals for the Panthers. Their 22 SOG 2nd period led to lots of rebound opportunities as Sabres Goaltender Dustin Tokarski was overwhelmed by the Panthers attack where Anton Lundell was able to convert on a rebound to give the Panthers the lead at 15:55 in the 2nd. Even though Lundell has missed 15 games, his 82-game pace has him getting over 20 goals in his rookie season, incredible. Not even a minute later after Aleksander Barkov skates his way through the Buffalo defense, his shot is saved by Tokarski, yet another rebound happens, Panthers retrieve the puck, work it around and as Gustav Forsling is driving to the net, he finds a wide open Anthony Duclair who nails a wrister to make it 3-1 at 17:01 in the second period. Not bad for a guy who was given up on by many teams and negotiated his own contract.
Panthers came out firing early once again in the 3rd as Duclair converts on a rebound off a shot by Barkov for his second of the game and 28th of the season at 0:57 of the 3rd. Though with the Panthers entering this game at 33-0-1 when leading after 2, many(including myself) thought that this one was in the bag and it was "all she wrote." Not so fast, some unforced errors by the Panthers, including a Robert Hagg Hold on Kyle Okposo at 7:25 and an Anthony Duclair slash on Peyton Krebs at 9:20 resulted in 2 Power Play goals for Buffalo to make it a 1-goal game. Spencer Knight was also not in the best position on both of those goals. The goal by Jeff Skinner, Knight was out of his crease and spun around, originally ruled goalie interference, but replay show that Spencer Knight was not in the crease, so we had a good goal at 8:25 of the 3rd. For the Duclair slash, that's something that the referees caught the retaliation and in that instance, it was best for Duclair to let that go. Tage Thompson, who is having a career season for Buffalo, was fed by Jeff Skinner on a no-look backhand pass where Spencer Knight was late drawing to his right cut the lead at the time to one at 10:19. "We have a game now" I said as soon as that happened.
Thought the Panthers did shoot themselves in the foot in the 3rd period with their set of penalties(which before the hold by Former Sabre Robert Hagg, they played a mostly clean hockey game), Buffalo shot themselves in the foot with two penalties 1:02 apart helping the Panthers go on a 5-on-3, which Mackenzie Weegar was able to convert on a one-timer from Claude Giroux to put the Panthers up 5-3 and end any hope for a comeback by Buffalo.
It was a day of records for the Panthers, they set a franchise record for wins with 48, Jonathan Huberdeau sets a franchise record 97 points in a season. Oh yeah, and the Panthers have 13 games left on the season. This could be a season where we could see even more records broken and it could take years for these current ones set by these Panthers to be broken. It's been a fun ride.
To Listen to the audio version recapping the Panthers win over Buffalo, make sure to Listen Every Day, Monday-Friday on Locked On Panthers As Armando Velez and various guests on the show will discuss what will hopefully be a long playoff run for the Florida Panthers. Thank you for reading.
Audio: https://linktr.ee/Mandoman12
Video: https://www.youtube.com/channel/UCHsUfqcK1qfjlqhamXbta_Q