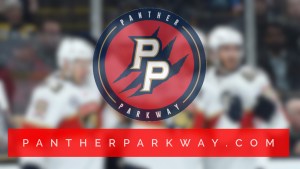 The idea to test the knowledge of Florida Panther fans was thought of by our own Jacob Winans.  He wanted to see who knows the most, or in some cases potentially the least among Panther fans.  So we reached out to the community and asked people to respond to our tweet suggesting being a participant.
I received a bunch of messages, most as direct messages, and decided to choose our good friend Keegan H, otherwise known as @trinidaddy25 on Twitter.  Keegan is a long time Florida Panther fan, with a ton of hockey knowledge.
Jacob and Keegan met up prior to puck drop for Saturday night's game against the Dallas Stars.  Jacob had 10 very difficult questions, but I have to tell you, Keegan held his own.
Here's the audio:
Jacob plans on doing more of these, and we'll keep tab of who ends up the ultimate winner.  Who knows, maybe we'll have to have a playoff to determine the winner!
Thanks for playing, thanks for reading.
You can follow along with Panther Parkway @pantherparkway on Twitter! You can also follow our writers: @FrankRekas, @Josh_LOPanthers, @JacobWinans8, @prudentia0, @Spencer_hoag, @Mister_Joester! Make sure to follow and listen to our podcast @LOPanthersPod All images unless otherwise noted are courtesy of @KimSmithImages