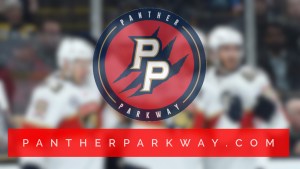 Saturday night the Florida Panthers entered some unfriendly territory.  Raleigh Durham, North Carolina.  They were to face a team that they haven't had much success against lately, especially in Carolina.
The preliminary thought on social media by many was that after it was announced that backup goaltender Chris Dreidger of the Florida Panthers would be getting the start, the panic button was activated.  It was easy for many to feel concerned since Dreidger last played on December 3rd when the Panthers lost at home to the Minnesota Wild.  It would be only his third start of the season.  The Panthers were on a two game winning streak that many feared would end.  And because of the recent history between the two teams, doom and gloom set in.
Well, boys and girls, this is not the Florida Panthers team you are used to.  Things are different.  Much different, and Dreidger led the Panthers to a 4-2 victory over Carolina for their third win in a row.  Dreidger's performance was magnificent as he stopped 42 of 44 shots fired against him.  20 of those shots came in the third period when the Canes applied some pressure and the Panthers fell on their heels a bit.
Nonetheless, Dreidger turned in a solid effort and he did it with confidence.  His positioning was virtually perfect.  he was many times square to the shooter, made just one save by either kicking the puck aside, catching it with his glove, or absorbing it into his body.  He often held on and stopped the play, slowing down, and frustrating Carolina.  His rebound control was just as good, as Carolina had very few second chances.
In a game that was a must win for a number of reasons, head coach Joel Quenneville gave Dreidger the credit he deserved:
"Over the course of the season you get some goalie wins", Quenneville said.  "That was one of them".
Jonathan Huberdeau continued his torrid pace with a goal and an assist.  Brian Boyle scored a very important power play goal as he was stationed directly in front of Carolina netminder Petr Mrazek, tipping in a shot by Aaron Ekblad who just kind of threw the puck on net.
And by the way, how good has Ekblad been this season?  His performance overall has been great, and it looks like he's back to his early form as a rookie.
If there was anything that was disappointing it was the fact that Noel Acciari didn't get his third hat trick in a row.  However, the new scoring touch that has been anointed on the gritty winger would not be denied as he did get his 12th goal of the season (doubling his total for last year) as he caught a beautiful cross ice pass from Huberdeau which gave the Panthers back their three goal lead making the score 4-1 midway through the third period.  Here's a replay of the Acciari goal:
Evgenii Dadonov scored the opening goal of the game seven minutes in on a feed from Boyle, as early on the first period the Panthers were just trying to weather the storm.  Which they did.
The often found them selves hemmed in their own zone, therefore puck possession last night wasn't great.  But what was different about this game, than other games in recent times against the Canes is that the Panthers buried their chances, and didn't fold despite being under attack for good portions at a time.
This was the first road game for the Panthers since late November, and the first home game for Carolina who returned following a 5-0-1 road trip out west.  Up till last night Carolina had a 9-2-1 record against the Panthers in the last 12 meetings.
The Panthers as of Sunday morning now find themselves tied for third in the Atlantic Division with Buffalo.  Montreal which comes to Sunrise a week from today is currently one point behind both teams.  The Panthers will face another big test on Monday when they play cross state rival Tampa, in Tampa for the final meeting of the season.  As of  Sunday Tampa trails the Panthers by three points and is coming off a 3-1 road loss to the Washington Capitals on Saturday.
Going to be a tough game Monday, but the Panthers can put it all out on the line, as the Christmas break will begin following that game, and they won't play till the Detroit Red Wings come in this coming Saturday.
Thanks for reading.
You can follow along with Panther Parkway @pantherparkway on Twitter! You can also follow our writers: @FrankRekas, @Josh_LOPanthers, @JacobWinans8, @prudentia0, @Spencer_hoag, @Mister_Joester! Make sure to follow and listen to our podcast @LOPanthersPod All images unless otherwise noted are courtesy of @KimSmithImages