The time has finally come. It's time to say the vows.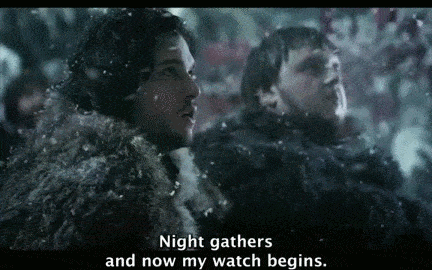 The Blue Jackets season is over and the long rumored off-season move of winger Artemi Panarin and goaltender Sergei Bobrovksy to the Florida Panthers can really ramp up. As the minutes ticked down on the Blue Jackets season ending Game 6, 3-0 loss to the Boston Bruins last night, the speculation began. Was this the end for the two Russian's tenure with the Columbus Blue Jackets?  Both players will be unrestricted free agents on July 1st, but have long been rumored to have already made their decision to leave Columbus this off-season. While there wasn't a definitive answer given, it certainly felt like a goodbye.
Artemi Panarin just took a lap of his own around the rink, waved and thanked the fans here at Nationwide Arena.

— Rob Mixer (@RobMixer) May 7, 2019
Note how this wasn't the entire team, it was just Panarin. The goodbye lap is a pretty typical move. All class, but pretty ominous for CBJ.
In a very rare post game interview through a translator, Panarin was asked about his future. His response said nothing, but revealed everything.
Artemi Panarin spoke through a Russian interpreter after the game tonight, but when asked if he would return to Columbus he said in English, "Nobody know."

— Dan Rosen (@drosennhl) May 7, 2019
The non-committal response allows the story to stay off of him while not giving the organization false hope. This is a typical classy move for a guy who has already made his decision to leave. His current team was just eliminated from the playoffs, no need to twist the knife even deeper.
Want one last not-so-subtle clue from last night?
Bobrovsky and Panarin came out to thank fans. They stayed and took pictures and even gave out hugs. Thank you @9Artemi and @SergeiBobrovsky ❤️💙 #cbj pic.twitter.com/wgetfQMYdD

— Lindsey Cussen (@JacketsLindsey) May 7, 2019
Interesting how these two did this together…
Then the hay-maker came down.
#CBJ GM Jarmo Kekalainen had some strong feelings about his unrestricted free agents heading into the offseason.

"We're going to have (those) type of players on our team next year, that want to be here, want to be Blue Jackets and are proud to be in Columbus."

Full quote -> pic.twitter.com/2QPgCi7rcG

— Brian Hedger (@BrianHedger) May 7, 2019
Remember the summer of 2014 when the Miami HEAT had just lost in the NBA Finals and team president Pat Riley made similar comments about his team? Remember how without using Lebron James's name he challenged him to stick around and fight through adversity. Kekalainen's comments feel almost exactly the same. This is a GM who knew he had one last card to play and he was going to play it immediately even though he knew it was almost certainly futile.
So Breadman and officer Bobrovksy are likely leaving this off-season. The assumption has always been that the two are a package deal even though both have denied that they are planning to play together next year. I don't know about you guys, but I believe them. They only do everything together. They stay late and take pictures with fans together, they celebrate sweeping the Lightning together, and Panarin changed his agent to the same one as Bobrovsky. So naturally, they clearly don't desire to continue playing together and the Panthers shouldn't bother trying to acquire both of them.
Why the Panthers?
Now if you are a true long suffering Panthers fan, you are probably asking yourself how the two top upcoming free-agents are favored to sign with the Florida Panthers. Have you fallen into the Twilight Zone? Shockingly enough. No. You haven't. It seems the sun may finally be literally shining on the Panthers franchise. While it hasn't been officially stated, Artemi Panarin wants to play in a coastal metropolis that has a strong Russian population. Well lets see.
Coastal Metropolis? CHECK
Panarin loves the beach and South Florida has a ton of beaches. Oh, that upcoming practice arena at the War Memorial Auditorium? 10 minutes at most from Ft. Lauderdale Beach.
Strong Russian Population? CHECK
Have you been to Miami Beach/Aventura lately? Have you been to the hockey rink on South Beach where current and former Russian NHLers hold private games during the summer? Whole lot of Russians to make Panarin feel comfortable.
Oh, and he already owns a condo on Miami Beach.
As for Bobrovksy, his desires for a new home are similar to his buddy's but with him, cash will be king. Bobrovsky seems to want to live in a sunny city, but he wants to be paid his worth. It's why his exit from CBJ is a bit more contentious then Panarin's. He doesn't feel Columbus properly valued his services when it came to their contract negotiations last year. That may have changed with Bobrovksy's stellar playoffs, but I doubt those wounds can be healed.
The Panthers also have an ace in the hole. Coach Joel Quenneville. From all reports, Q loved coaching Panarin, and Panarin loved playing under Q. Coach Q was reportedly so upset when the Blackhawks traded Panarin to the Blue Jackets that he stormed away from the draft table in disgust.
There is one thing I haven't mentioned yet. Winning. Both players certainly want to win. There have been sports writers in other cities who have said that if both players sign with the Panthers that they have given up on winning. That couldn't be further from the truth. The Panthers are a team that is filled with high end talent but has under-performed that talent level the past 3 seasons. Coach Q was brought in to fix that trend of a team that underachieves. If you just compare the Panthers to the Blue Jackets, players like Aleksander Barkov, Jonathan Huberdeau, and Vincent Trocheck are better then the best forwards Columbus has outside of Panarin. If you subtract Panarin and Bobrovksy from CBJ and add them to the Panthers lineup, the Panthers immediately become a Stanley Cup contender while the Blue Jackets likely fall to being a bubble team at best. The Russian duo coming to SFL would be anything but a retirement tour. They would be joining a team that is ready to win and win big. Being able to do that while playing in sunny Sunrise would give them something they can't get anywhere else.
The Competition
Now to stay true to the mantra of always giving the whole truth, there will be competition for both players. The Panthers may be the favorite to sign both players, but other teams will have their say as well though the Panthers will have more competition for Panarin then they will for Bobrosky.
Panarin will likely be chased by the New York Rangers, New York Islanders, Philadelphia Flyers, Chicago Blackhawks and LA Kings. All four teams offer Panarin some of the things that are reportedly high on his checklist like being close to the water and a substantial Russian presence. In my opinion, the Rangers pose the biggest threat to the Panthers. They are always a high interest spot for free agents, have a very large Russian population, and play in the most high profile metropolis in the country. However, they are in year two of a rebuild and even with the #2 overall pick, Panarin would be committing to a team that is likely a few years away from playoff contention.
The Islanders pose an interesting option because they are near New York and just made the 2nd round of the playoffs. However, the Islanders are a flawed team that rode unsustainable goalies to the playoffs. Any regression will result in them being a bottom feeder team and I'm not sure Panarin could keep them afloat. The Islanders do have 31 million in cap space and could decide that they want to try and sign both Bobrosky and Panarin, but I doubt that will happen. Most likely they bring back their current goalies and hope lightning can strike twice.
The Blackhawks are a team that Panarin loved playing for, but they are a team currently struggling under some crippling contracts that anchor the team down. They should be continuing to gain cap flexibility and should not be using their cap space on a single player. Crazier things have happened, but I don't think the Blackhawks are a major player for Panarin. It just wouldn't be smart on their end because Panarin doesn't solve that team's issues.
The Flyers are an interesting option. Like the Panthers they have a good mix of young and established talent with a deep prospect pool. They have a ton of cap space (even more then the Panthers) and could make the decision to chase both players as well. However, when I think sunny metropolis by the beach, Philadelphia doesn't fit the bill. For that reason, I see them as a long shot in the Panarin sweepstakes.
In my opinion, the LA Kings are the least likely of the potential Panarin destinations. LA checks all the boxes of destination in a major way. But, they are a team that is facing the awful reality of being a team that is too old to compete and doesn't have the flexibility to improve on a mediocre roster. They are projected to have about 7-9 million of cap space this offseason and have holes to fill. I just don't see this as a reasonable spot unless the only thing on Panarin's mind is fun in the sun. Hint: It's not.
As for Bobrovksy, there are not as many suitors. The market just isn't there for high priced goaltenders. Teams also aren't lining up to give a 31 year old a 7 year deal. The reality is that the biggest competition will likely be from the Blue Jackets and we all know how that is going. Like I previously mentioned, the Flyers and/or Islanders could get involved if they reverse course and decide they want to try and improve on what they have. I don't expect it. The Edmonton Oilers desperately need a #1 goalie, but I doubt there is enough money that could convince Bobrovksy to sign with the Oilers.
The potential trade
Alright, we went over the competitors, let's get to the good stuff. What happens now? How do the Panthers make the dream off-season a reality? Let's start with the ideal scenario where the Panthers trade for the rights to both players in order to have plenty of time to exclusively negotiate with both players leading up to July 1st. It was rumored that the Panthers and Blue Jackets have already discussed a trade for the rights to one or both Russian players. I have no sources on this, but I would absolutely bet this is true. GMs are always working and it makes all the sense in the world that both Dale Tallon and Kekalainen discussed the framework of a deal around the deadline with the assumption that talks would continue when each team's season ended.
Obviously the Blue Jackets organization will take some time to reflect on the season and make one last pitch to both players. That will likely happen during locker room clean out day in the next day or two. Assuming it proves futile and they both inform the Blue Jackets organization their plan is to leave Columbus, I would guess that by the end of the week Tallon and Kekalainen will resume negotiations. Maybe they are have already agreed on a price and just need to iron out some final details. I'm going to take a shot and say that the price to acquire the negotiating rights will be a 3rd and 4th round pick with a conditional 2nd round pick dependent on both players signing with the Panthers. Assuming the two teams can come to an agreement, I would assume that Tallon would be given permission to reach out to Panarin and Bobrosky's agent to begin contract negotiations. Side note, I'm sure he has already reached out to their agent Paul Theofanous through back channels to get some ideas on each player's salary demands. This kind of thing, while against the letter of the CBA, happens all the time without incident.
This would all happen behind closed doors because the NHL playoffs are still ongoing and the NHL doesn't like when it's premier event is upstaged. If this is the route that is taken, I would expect an announcement a week or so after the Stanley Cup Finals end. Again, this is the dream scenario for the Panthers and is mostly speculation on my end. If you are wondering why not save the draft picks and wait for free agency, here is your answer. The price is likely draft picks. Draft picks that are very unlikely to ever be anywhere near as good as either player. Why wouldn't you pay that price to give yourself the first crack at signing two premier free agents? These trades usually are made with the framework of a deal already agreed to so they are very low risk.
Oftentimes, these player rights trades happen after the draft and before the start of free agency. However, the Blue Jackets pretty much traded all of their 2019 draft picks at the deadline. It would make the most sense for them to do a deal prior to the draft to help recoup some of those lost picks.
If there is no deal to acquire the negotiating rights of both or even just one of the two, then the Panthers would have to wait until late June when the "tampering" window opens and shoot their shot along with every other suitor. I would feel a lot less confident if this gets to July 1st, because that likely means that the Panthers didn't have enough confidence in signing either player to warrant trading assets for their negotiating rights. Not saying that they won't sign both if it gets to July 1st, but I would feel a lot less confident then I do right now.
So what kind of contract are we looking at for both players. At minimum, both will demand signing bonus heavy 7 year deals that include no movement clauses. I would guess that both want something in the 9.5-10.5 million AAV range. With some simple maneuvering, the Panthers could give both players what they want and still have money left to improve the defense. However, I would guess the Panthers would like to sign Panarin to something in the 9.5 AAV range and Bobrovsky in the 7.0 AAV range. Maybe there is a package deal discount, but I HIGHLY doubt it. There will certainly be a slight adjustment in the Panthers favor due to no state tax in Florida, but I would be surprised if they could get both for a combined 16 million AAV or less. One thing I would like is for a potential NMC for Bobrovksy to turn into a Modified NTC for the last few seasons. He's 31 years old and the last 2-3 years of that deal will likely be rough. It would be good to get some flexibility at the end of that deal while still giving Bobrovksy the protection from being sent where he doesn't want to go.
One more contract issue to clear up. Even if the Panthers trade for the rights to either player, they will be unable to offer an 8 year contract. The only team that can offer either player 8 years is the Blue Jackets. Theoretically the two teams could agree to a sign and trade that included 8 year contracts, but that has yet to be done under this CBA and as with all things CBA related, nobody really knows what is or isn't allowed until a team tries to do it.
I think that about covers it. And Now Our Watch Begins.
Let me know what you think on Twitter @CF3234.