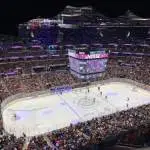 The Florida Panthers take on the Detroit Red Wings tonight at 5:00 P.M. Friday night's win over the Minnesota Wild gave us a glimpse of what the season could have looked like. While not to rain on the parade, or curb your enthusiasm, that was one game. Why weren't the other 60 plus similar to that?
The 2018-2019 season hasn't gone the way the Florida Panthers had envisioned. At this point of the season, the team should just go out and play as though there's nothing to lose. No reason to be uptight and scoreboard watch. Playoffs aren't within reach, and for those that are tone deaf to what's really going on, they haven't been in months. As was said at the top, the win against Minnesota was nice and all, and it was a small sample of what could have been, but……..let's not be over reactionary. Getting too disgruntled one night because of a loss, and then getting too giddy from a win. Like Friday against Minnesota. This team is what it is. Inconsistent.
As we know there are specific changes that have to take place with the on ice product. While many have voiced their opinions about a coaching staff change, which may or may not happen, let's use our time here today to look at five areas that need to be addressed in order for the Florida Panthers to get themselves to be a competitive hockey team going forward. These are not in order, but they are a necessity.
CULTURE: The Panthers have been in existence for 25 seasons. The "just getting started" theme has become a poor message. They've missed the playoffs in 20 of those 25 seasons, which is pretty difficult to do when 50% of the NHL makes the post season. It seems that there's a culture of accepting mediocrity. Or at least the appearance of it. A winning attitude starts at the top, and transfers all the way down to the guy collecting the towels. Yet for some reason, the Panthers seem to be at a place where players can fly under the radar. Have minimal exposure, and play hockey without the pressure of winning. Or so it seems. The idea of no state income tax is certainly attractive, but being a retirement community should be limited to those 65 and over, not your hockey team.
The expectation for winning has to be set higher than just making the playoffs. The expectation must be to play for the Stanley Cup. The players need to come into training camp already in shape with the mind set that losing isn't acceptable, and knowing in their minds what the ultimate goal is. The mental toughness of this team is likely at an all time low, except for this past Friday night. There's too much talent "up front" to be playing this poorly throughout the season, yet the expectations that were set earlier weren't high enough. They say that you can't win until you learn how to lose. After the way that this season has turned out, there are no more losing lessons to be taught.
Expect excellence from each other. Focus on doing the right things on your 30-45 second shift. Not some of them, all of them. Play to your strengths, and find ways to correct the weaknesses. Learn and move forward. Famous words: "There's winning, and there's misery".
TOUGH TO PLAY AGAINST: I've been watching hockey since I was 5 years old. Which covers a "few" decades. The game has changed, and evolved into what it is currently. Faster with bigger players, who are more skilled and goaltenders who wear more padding. The game however has lost some of it's nastiness. Therefore there's less hitting, less physicality and less fighting. I'm not petitioning for more goonery, but I prefer to see more truculence than the Panthers have shown since Erik Gudbranson left 2015-2016. season. They'be been promising to be "tougher to play against" and it's just not happening.
All too often there's no display of physicality. Little to no body contact. Instead players are reaching with their sticks to poke check, or short stopping in the corner or along the boards to avoid a check. Opposing players are setting up a tray table in the crease waiting for their rib tips and popcorn to be delivered. There needs to be body contact, and more grit and sandpaper. They used to call it "finishing your check". This is hockey, not ballet. It's a known fact that teams can take advantage of this because there's no bite back.
GOALTENDING: Roberto Luongo is loved in South Florida. The Panthers rescued him from an awkward situation in Vancouver that had developed in his final season or two there, and brought him back. Luongo wanted to come back and help this team compete for a Stanley Cup. The window for that has all about shut, and it's unfortunate. At 39, no player is the same as they were when they were 25, and Lu is no different. Injuries have mounted, causing his game to regress. He's still been one of the best goaltenders to play the game, yet he hasn't been surrounded by enough quality to get that one thing that's been missing. A Stanley Cup. What happens with Luongo in the off season will play an important role as the Panthers move ahead, but one thing is clear. And this is not meant to offend him at all. His days of playing more than 25 games are in the past. He can be a mentor and keep the seat warm for Montembeault if the Panthers don't feel he's ready yet. And I mean that with all due respect. Luongo has meant a great deal to this team as a leader, as a player and as a respected citizen in the community.
As for James Reimer, it's time for a change. It's too much money for a backup and the idea of the 1 & 1A between him and Luongo just hasn't worked. Reimer has had moments of good hockey, but they've been overshadowed by more moments of bad.
There's been a lot of talk that the Panthers are going to make a big push for signing soon to be unrestricted free agent Sergei Bobrovsky. We all know that "Bob" has been saying that he's moving on from Columbus, and that's all well and good. During the regular season his record has been outstanding, yet in the playoffs not so much. That's not to say it's all him, but the numbers don't lie. However, he's going to be 31 come the beginning of this coming season. Do you want to sign him for 7 years at $8 million or potentially more? What guarantee do we have that he's even coming here? None. He's at the point in his career that he wants a chance to win the cup before he retires. What team gives him that opportunity? The Panthers will not be the only team chasing him, and with the drama that's been attached to them, how attractive are they? Signing Bob to a long term deal also makes Sam Montembeault a back up for about of those 7 years.
The Panthers should look elsewhere, but the same things could be said. Semyon Varlomov of Colorado will also be a UFA. He's going to be 31 in April and might be a slightly less expensive option, but again, does he want to come here? He did say recently that he would like to stay in Colorado, and why not if they can work out a deal?
Robin Lehner of the New York Islanders has had a surprisingly good season. He could be someone the Panthers consider. He's younger (27) and should be a less expensive option compared to "Bob" as well.
Petr Mrazek, Keith Kinkaid, Cam Talbot and Antii Niemi David Rittich are others to consider. They are all much less expensive versions and it's not known whether they've been battle tested enough to lead the Panthers to the promised land. Regardless, there has to be a goaltender with some experience and a proven record to be the starter. It's a very short list of available players. An alternative is making a trade. That's another discussion, yet I think we all agree that goaltending needs attention.
Sam Montembeault appears to be the goalie of the future. However we've seen up to today a two game sample, which in reality isn't enough to gauge. At 22 years old, the Panthers want to be smart about his progress. While some goaltenders can make the transition at a young age, many of them have then faltered after a couple of good early years. Andrew Raycroft anyone? Remember, that Corey Crawford the two time winning Stanley Cup goaltender of the Chicago Blackhawks spent five seasons in the AHL before getting the keys to the car. I'm not at all saying the Panthers need to wait five years, but they must make sure that Sam is ready before he gets to drive.
DEFENCE: This is the area of the Florida Panthers game that has received the most criticism. And it's been 100% warranted. The defence hasn't been just erratic, it's been swiss cheese. Out hustled, outplayed, outsmarted and beaten down physically, it's amazing that they haven't cost the Panthers even more losses. There are too many puck movers, and not enough body bangers who "stay at home". As a unit they've created more turnovers than your favorite diner. It's difficult to determine whether they play a man to man system or a zone. All that can be determined is that they're collectively bad.
I went over a brief list of defencemen available in free agency a few articles ago. And while that list can be found here, the major cause of the teams struggles this season are located right here. With a better defence, the goaltending isn't as bad. Let's not forget that with better backchecking from the forwards, the results might be different as well. Additionally, a tighter and more aggressive forecheck would pressure the opposition. Sometimes the version of what the Panthers think of forechecking is the "fore" without the checking.
Good defensive defencemen are hard to find, and if they cannot be acquired via free agency, the Panthers will have to trade for one. Or two. They cannot go into next season with this unit. No way. No how.
VETERAN LEADERSHIP: Signing Troy Brouwer to a one year deal was a good idea. He's been exactly what the Panthers expected and wanted. It's very possible that he comes back next season for a 4th line role, and that's fine. But they need more like him, but not of him. Meaning, there isn't enough of the winning pedigree on the team, and there has to be a top 6 player and a top 3 defencemen added to the team that knows what it takes to win. And can set the example for the rest of the players. Players who know the sacrifices that have to be made, and the drive and determination that's needed to be a winner. This goes back to the culture of the team needing a change.
The team has a problem closing out games. It's been an issue all season, and this statistic is very telling. They have blown 2 goal leads 12 times this season. They are 21-7-6 in games where they had a 3rd period lead. Good teams don't let that happen. Good teams find a way to fix that before it becomes an epidemic.
In closing, there are a lot of positives for the Panthers. Goal scoring no longer seems to be an issue, and both the power play and penalty killing units are in the top 10 of the NHL. The 5 on 5 needs work, and this is where the defensive corrections come into play. These changes made in the offseason can make the difference between a playoff pretender, and a championship contender.
The window for the Panthers to take the next step is here
Thanks for reading. Please share with your friends.
Please follow me on Twitter @FrankRekas