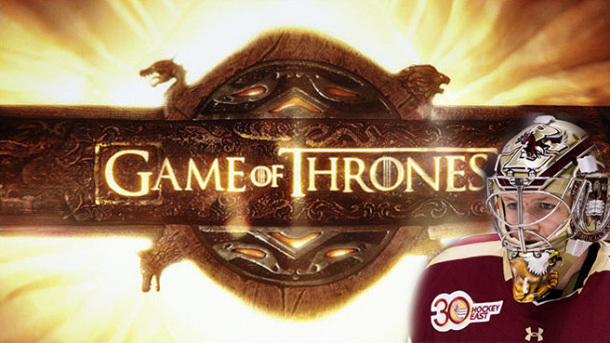 NAME:THATCHER DEMKO
HOUSE: DEMKO
WORDS: "NO GOALS. NO MERCY"
POSITION: G
HEIGHT: 6'4″
WEIGHT: 192 lbs.
GLOVE: LEFT
TEAM: BOSTON COLLEGE (H-EAST)
NUMBER: 30
NHL CENTRAL SCOUTING RANK: #1 NORTH AMERICAN GOALTENDER
NICKNAME: THATCHER IN THE RYE
If the HBO series Game of Thrones has taught us anything, it's that the reign of even the most mighty king will someday come to an end.
Keeping this in mind, the Florida Panthers should already be thinking about who will lead their team when 35-year-old netminder Roberto Luongo decides to step down from his throne between the iron pipes in Sunrise.
With the heir apparent, Jacob Markstrom, now living in exile in the land of Vancouver, the team will have to look outside their realm in order to find Luongo's successor.
Though finding a prince among the peasants can often be a daunting task, talk has grown of an outsider from the North who may be right for the job — Boston College goaltender Thatcher Demko.
The No. 1 North American goaltender in Central Scouting's final rankings, Demko looks to be lightyears ahead of fellow 2014 draft-eligible goaltenders, Mason McDonald of the Charlottetown Islanders in the Quebec Major Junior Hockey League and Brent Moran of the Niagara IceDogs in the Ontario Hockey League.
A child of summer, Demko played his minor hockey in Southern California with the San Diego Junior Gulls and the Los Angeles Junior Kings. Following his time with the Junior Kings, Demko played for both the Omaha Lancers (USHL) and U.S. National Team.
Rather than taking the black and heading north of the Wall to battle the Wildlings of the Canadian Hockey League, Demko instead decided to play collegiate hockey at Boston College.
At just 18-years old, Demko finished his freshman year with a 16-5-3 record, 2.24 goals-against average, .919 save percentage and two shutouts for the Eagles.
Across the Narrow Sea, at the international level, Demko earned a silver medal with Team USA at the 2013 Under-18 World Championship, compiling a 3-1-0-3 record in seven games. At the 2012 World Under-17 Hockey Challenge, Demko helped lead USA to a second-place finish, posting a tournament-best 1.90 goals-against average and .949 save percentage.
Standing 6-foot-4, 189 pounds, Demko is hardly Ser Gregor "The Mountain" Clegane, but is still endowed the large frame that NHL teams crave in their netminders.
Playing a butterfly style of game, Demko's lateral movement isn't hindered by his size as his long legs nearly stretch post to post. He's an aggressive goaltender who challenges shooters and will often opt to play pucks behind his net. Though his rebound control could use improvement, you'd be hard-pressed to find a more developed 18-year-old goaltender than Demko.
Though the Panthers' goaltending pipeline currently contains both 2014 Mike Richard Award finalist Sam Brittain and 2012 Red Tilson Trophy winner Michael Houser, neither are thought to be guarantees to make the NHL. Of the two, Houser could be viewed as the team's top-goaltending prospect having earned a 12-13-1 record, 3.05 goals-against average and a .903 save percentage with the team's AHL affiliate, the San Antonio Rampage.
In possession of this year's No. 1 overall pick, the Panthers are likely not going to use their first-round selection on a goaltender, but there is still a strong possibility that Demko could end up in Florida. Barring any unforeseen trades, the Panthers could potentially take Demko in the second round with the No. 32 pick. At the 2013 draft, top-ranked goaltender Zachary Fucale fell all the way to the Montreal Canadiens at the No. 36 pick.
QUOTES
"He has that NHL pro-type potential. I can see him three or four years down the road becoming a monster in the net, and for any franchise in need of a future top goalie that's what you want. He's big, aggressive and confident, and has remained strong and focused most of the year."
Al Jensen via NHL.com
"He has an ability to move very well laterally and is able to recover pucks. Thatcher is extremely competitive and very coachable. To me, if you have those two things it's very positive for his development. For a bigger kid he's pretty athletic. I think at the beginning of the year he may have lacked just a little bit of confidence knowing he was the youngest college player, and that's only natural. But he's continued to battle and has gotten wins for us. For a freshman to come in and do what he's done is pretty impressive. It's a true sign of his makeup and attitude and his hunger to be better."
Mike Ayers NHL.com
 STATS
| SEASON | TEAM | LEAGUE | GP | GAA | MIN | SO | SV% |
| --- | --- | --- | --- | --- | --- | --- | --- |
| 2011-2012 | USA U-17 | USHL | 3 | 1.29 | 140 | 0 | 0.940 |
| 2012-2013 | USA U-18 | USHL | 37 | 2.09 | 1980 | 5 | 0.908 |
| 2012-2013 | USA U-18 | USHL | 45 | 2.06 | 2528 | 6 | 0.911 |
| 2013-2014 | BOSTON COLLEGE | H-EAST | 23 | 2.16 | 1389 | 2 | 0.920 |
 VIDEO
Thanks for reading and we welcome your thoughts in the comments section below!
Follow Jameson on Twitter @JamesonCoop
For All Your Florida Panthers' Updates Follow Panther Parkway on Facebook
Follow Panther Parkway on Instagram @ PantherParkway