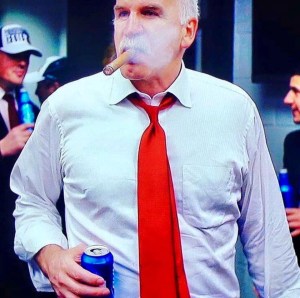 It's been a long time my friends.  While life and my career have taken priority, I have been watching and paying attention.  To everything.  My details are boring compared to what I want to talk about today, so let's get into it.
The Florida Panthers led by head coach Joel Quenneville are about to embark on a what any long time fan would like to see…..a playoff ride.  How long that ride lasts will be determined by a number of things, but one thing that the Panthers have that no other NHL team has is Joel Quenneville.  The excitement building up to the post season for this Florida team is different from any other.  Not that they have a lot to compare to, but this year isn't comparable to any other.  The Panthers have certainly struggled over the years and have some demons to bury.  Such as……
A fan base that's been growing impatient with teams that have been mediocre at best, and often times less than that as the years have worn on.
An organEYEzation that has had a reputation that led them to be the laughing stock of the NHL during much of their existence.
A group of players who could never reach their potential, were highly overrated, or didn't have the mental capacity for the NHL grind.
A revolving door of coaches, most of whom couldn't deliver because they weren't ready, or weren't given the goods to get the job done…..or were let go prematurely (Tom Rowe you sly devil you).  All of those variables cost the Florida Panthers dearly in players, revenue, fans, and post season appearances.
Until now.
Between the ownership group headed by Vincent Viola, first year General Manager Bill Zito, and the glue of it all, head coach Joel Quenneville, all the "monsters" could very well be put to rest with a deep playoff run in 2021.
How crucial will the leadership and decision making process of Joel Quenneville be in relation to the success of the Florida Panthers?  Very.  One thing you can rest assured with is that he's been in these situations many times.  And while his line blender will be working overtime, and will be frustrating to many, there will be a method to his madness.  And we must trust his decisions.  Like most coaches he will make mistakes.  He isn't perfect, but he's been right alot more than he's been wrong.  At the end of the day, the players are the ones performing.
His three Stanley Cups with the Chicago Blackhawks didn't just happen because the core of players were good. It wasn't just because the roster was built with a combination of youth and veterans who all had skill and determination.  Sure that was some of it, but not all of it. No.  It was also because Q knew how to get the best out of his team, what combinations worked, and what buttons to push, and when.  It also helped that the players "loved" playing for him despite his line adjustments, lineup changes and intense style. And with a little "puck luck", which I don't believe in, he/they (meaning Chicago) could have won 4 in that 6 year span!
If you look back briefly at Q's three championships, there were turning points in each of those runs.  In 2010, it was Patrick Kane scoring with under a minute left to tie the game and send it to overtime against Nashville in the opening series.  Marian Hossa moments later scores the game winner in overtime  as he's coming out of the penalty box after serving a 5 minute major for boarding. In 2013, Brent Seabrook scores an overtime goal against Detroit in game 7 of the Western Conference Semi Final after the Hawks trailed the series three games to one.  If that wasn't miraculous enough, there was the famous "17" seconds against Boston in game six of the Final.  In 2015, the Hawks to a man were gassed.  They were hurting, running on fumes, and playing with basically 4 1/2 defencemen for the final two series.  The turning point was Jonathan Toews scoring two goals within 72 seconds against Anaheim in game five of the Western Conference Final . By the time the Hawks faced Tampa, you weren't sure if they were healthy enough to get it done.  Yet, Quenneville through it all kept doing the right things at the right times, with his players following through with sheer determination and desperation.  They had something to prove…..and they did….with Q driving the bus.
The playoffs in hockey are very special.  The game during the post season is different, and the style is different.  Your mind, body and spirit must be working on all cylinders as a player.  You cannot afford to be tired, lazy, or mentally absent.  These games are a grind, and every shift needs to be played with the utmost determination.  One bad bounce, one deflection, or one ill advised turnover (I'm talking to you Keith Yandle) can change everything.  Game.  Series.  All of it.
We all must remember that regardless of what the line combinations and defensive pairings are, what happens on the ice will lead to the end result.  The players will need to execute, and they will need to be mentally stronger than ever.  And the deeper into the playoffs they go, the stronger they'll need to be.  Injuries will mount, and players will play through them.  They'll have to.
Some more Q history.  In 2010, Andrew Ladd played with a broken clavicle in the final.  Jonathan Toews tore his MCL in the final against Boston in 2013.  In 2015 Marian Hossa among many other Hawk players were battling a myriad of injuries.  Why all the comparisons to Chicago?  That's where Q was at his best.  It was his Picasso.  You need a benchmark to compare to for this season.  His time in Chicago sets that benchmark.
When Joel Quenneville was hired before the 2019-2020 season started, he was claimed to be the saviour of this Florida Panther franchise.  While at times during that first season the Panthers played well, they didn't always play well enough or seemed to be lacking in something.  There were some parts missing.  Those parts not only consisted of the right players, but also the right attitude and culture.  Bill Zito was hired to replace Dale Tallon as the general manager after the season ended.  Zito went out and acquired a number of players who had what the Panthers and Quenneville wanted.  Together Zito and Quenneville have done a masterful job this season of developing the right attitude, and changing the culture of the team.  The country club atmosphere of the past is over.  With Zito adding the playoff proven performer Sam Bennett for two second round picks at the trade deadline, could have been the cherry on top of the ice cream sundae.
There's so much more coaching involved during the playoffs than during the regular season.  It's not just the lines for your team.  It's also, who they're matched up against.  Do you have the last change?  What defensive pairs do you want, and who are they matched against.  It's also about managing minutes.  Who gets more ice time than normal…..or less.  In a tight game, you need fresh players at all times, especially toward the end of a game when you're trailing, or fighting off the final push from the opposition.  Double shifting of a forward or defenceman will be nothing out of the ordinary.  The bench naturally gets shortened.
Quenneville is a master at managing the game from behind the bench, especially during the post season.  You'll often see two centers on a defensive zone faceoff, just in case one gets kicked out.  The other will race to the bench for a quick change when possible.  He'll rotate the pairing of defencemen, many times playing 5 while minimizing the potential shortcomings of the 6th.
He stresses composure.  While physicality is expected, and standing up for teammates is of course part of the game, he doesn't want retaliation penalties to change the momentum.  You have to play smart and leave the stupidity for another day.
Saturday night's game against Tampa Bay featured 154 penalty minutes.  It reminded me of the days of the old Norris Division games, where the penalty box was a revolving door.  Tampa despite missing some key players wanted to send a message.  The Panthers answered that message and thumped the Lightning 5-1 along the way.  While missing 3 of their own regular players.
Monday night's game wasn't as violent, but it had some moments.  The Lightning came to South Florida looking for trouble, and they found it.  The Panthers stood up to every challenge.  It was almost as though you poked the sleeping bear.  Or in this case, Panther.
As these two teams are preparing to faceoff against each other for the first time ever in the post season, the last two regular season games could be a very good indicator of what we'll see.  Two teams from the same state.  Separated by a 3-4 hour drive, or a short plane trip, that want to "own" hockey in Florida.  One is defending their championship.  One is making a run for their first.
The hardest trophy in sports to win is the Stanley Cup.  You need 16 victories….that's 4 different series, against teams that all want the same thing you do.  I believe among other things that the team that's in the best shape physically and mentally, has the best chance to win.  It's a grind.  It's a battle.  It's also beautiful, intense, and the best brand of hockey you can watch.
I make no predictions, and I make no boastful statements on the outcome of not only this series, but the entire playoff picture.  But I can tell you this much.  This isn't the Florida Panthers team you're used to seeing. The last time the Panthers made a deep run in the playoffs it wasn't expected.  It was surprising.  It was shocking.  That was a long time ago.  My daughter was 2, and I remember her walking around the living room coffee table in a trance during the final against Colorado.  Yes, she was allowed to stay awake for the overtimes.  Sleep is overrated anyway… so get used to depriving yourself of it now.
If you were to ask Coach Q is it possible for a deep run, his answer as most Blackhawk fans would know would be "You Betcha".
The excitement begins on May 16th.  Buckle up boys and girls.  We're just getting started!
Thank you for reading!
You can follow along with Panther Parkway @pantherparkway on Twitter! You can also follow our writers: @FrankRekas, @Josh_LOPanthers, @JacobWinans8, @prudentia0, @Spencer_hoag! All images unless otherwise noted are courtesy of @KimSmithImages