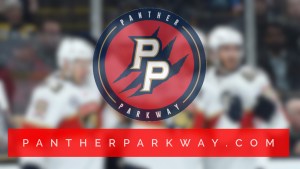 Good morning Panther faithful!
Panther Parkway is back for another season of Florida Panthers hockey! It has been 4-5 months since we last spoke in article form but my, oh my, have we had a lot to talk about the last few weeks.
I know everyone wants the latest scoop on Yandle-mania, but we will talk about it shortly as that is the hot topic de jour.
I would like to start off with a shout-out to the Spittin Chicklets podcast. They have brought us entertaining material week in and week out, with stories from current and former players. The podcast is hosted by former NHL (and non-cup winning) vets Ryan Whitney and Paul Bissonnette. If you are a Panthers fan, please go to their most recent podcast and fast forward to about 36-minutes and listen for about 5. At around the 40:50 mark, Whitney says something that should be the rally cry in Sunrise. It is similar to the idea that the Carolina Hurricanes used last season when they were called a "bunch of jerks" by Don Cherry. So I am calling all those who cheer for the Florida Panthers this season to rally around "The S-B Panthers." Create signs, make t-shirts, make this bigger than the "in space" sweatshirt of 2015-2016.
A lot has happened this offseason, let us take a look back on August 24th, 2020. I wrote this in regards to the GM search Florida was conducting:
"So where does this leave the organization? Clearly, the next GM will have some decisions to make. Florida ownership and management have come out and said they are searching for someone outside of the organization. A GM search that I see as a charade or as the military calls it a smoke-screen. "Outside" of the organization is a very loose term to use when describing the search. The names that have been brought up such as Michael Futa, Scott Mellanby, Chris Drury, Bill Armstrong, and Kevin Weekes are all interesting and fit the "outside" bill. But what is compelling is the one missing name in that conversation, Eric Joyce. Do not be surprised to read that after an "extensive search" that what the team needed was right at home. It would explain the departure of Chris Pronger as he knew before the start-up of the play-offs that he would not be the next GM. Reading Pronger's comments on the attitude of the roster and not being held accountable signals to me that he understands the problem in Sunrise. It's the core, management, and ownership in their lack of commitment, accountability, and doing whatever they need to, to win. He would be a great hire, and what the team needs." (https://pantherparkway.com/2020/08/24/florida-panthers-something-in-the-way/)
First of all, I will gladly say that I was incorrect in my assessment of who was going to be chosen and why. The history of the franchise led me to believe that this was going to be an internal hire, or a gentleman's handshake if you will much like that of Dale Tallon's departure. I say gladly wrong because of the job that new GM Bill Zito has done. It has been refreshing. It is in line with the last sentence from August 24th's article. "Commitment, accountability, and doing whatever they need to, to win." Zito shipped out Mike Matheson and Colton Sceviour for Patric Hornqvist, with no money retained! Following that move, Zito drafted arguably a top 5 player in the draft in Anton Lundell. The 12th overall pick was lights out during the World Juniors tournament finishing 3rd in scoring. Finally, Zito made it his mission to make the team better defensively by signing a few forwards who are known for their 2-way play and their grit on the back-end.
(https://www.tsn.ca/nhl/team/florida-panthers/transactions)
The moves that Zito and the Panthers made had writing on the wall for many of the players on the roster. No longer will players get a pass for their soft play, or mistakes. The clubhouse mentality is over. It is about creating a new identity centered around accountability. No one player is above this. However, there is the issue that is Keith Yandle.
Yandle currently is the active consecutive games played leader in the NHL (aka Iron Man Streak) with 866 in a row. Keith has not missed a game in a mind boggling 11 seasons. This even with taking a puck to the face last season where he lost 9-teeth. However, here is the issue (below):
Yandle's numbers while playing at even strength (red bars) are abysmal. What the Panthers are paying over $6-million dollars for is his power-play production, which is not bad at all. But this has not brought the Panthers success. Last year's issues were team defense and goaltending. Zito, Q, and the Panthers want to improve in those areas. He was also told by management that he was not in their plans for the season. This leaves Yandle out of the picture and his Ironman streak at risk. Q has ended a streak before. He ended former Panther Brian Campbell's 423 game streak. He was not happy about the decision but he focused on the positives and understood why it had to be done. If Yandle wants to be a Panther and wants to win, he should take some advice from Campbell and trust Q's decision-making. If he does not wish to see his streak end, then it may be time to waive his NMC before Sunday's game. Boston apparently has interest, Yandle may enjoy going back home to play.
It is great to be back and we here at Panther Parkway cannot wait for the season to get underway on Sunday against Chicago!
We have a new Podcast as well! Follow us all season long!
Thanks for reading.
You can follow along with Panther Parkway @pantherparkway on Twitter! You can also follow our writers: @FrankRekas, @Josh_LOPanthers, @JacobWinans8, @prudentia0, @Spencer_hoag, @Mister_Joester! All images unless otherwise noted are courtesy of @KimSmithImages.