Hello Panther Parkway faithful!
The Florida Panthers have been in the news quite a bit over the last week and no, hockey isn't back yet. But, they have been making moves within the community and for the future. Owner Vinnie Viola committed to paying the organEYEzation's entire staff. There had been a back and forth on social media on if it was just full-time employees. According to Scott Soshnick a sports columnist from Bloomberg Media, all 230 employees will be paid in full. This is another example of ownership having the communities back and supporting those who need it most. As painful as it may be, think back to Stoneman Douglas and what the Panthers meant to us, and the area.
In contrast, I'm never shy about taking shots at the Boston Bruins, especially if Marchand is on the ice. Their owner and management group have done the absolute minimum for their staff. In an article written by Alex Reimer, of Forbes Media, Bruins management announced:
"…it will be placing most of its full-time workers on temporary leave. Starting April 1, the Bruins will place 68 salaried full-time employees on leave, while the other 82 are receiving indefinite reductions in pay. In the press release, Delaware North says "great attention" was given to make sure full-time employees placed on leave receive eight weeks of benefits and one week of pay.
It's the least a company with estimated annual revenues of $3.3 billion could do. Too bad those benefits couldn't be extended to Delaware North's thousands of part-time workers in venues across the country, who were told Wednesday they wouldn't receive any assistance from the company during the coronavirus pandemic."
An original 6 team, refusing to take care of their own, think about that. What's more embarrassing, Florida's attendance or working for the Boston Bruins? I can't wait to see the comments on twitter.
Moving on to the future, The Florida Panthers have signed 3 defense-man to entry-level contracts. Now, I am not going to go into each prospects stats and what NHL player he resembles most, I'll leave that to TSN, but we are going to take a look at their style and what it means for the 6 blue-liners in Sunrise.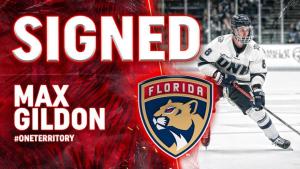 (Image Property of the Florida Panthers)
Max Gildon was drafted in the 2017 entry draft in the 3rd round. An offensive minded defense-man that has a physical edge. Part of his scouting report according to lastwordonsports.com "He is also good in the corners, throwing his weight around, and working to clear the front of the net." Sounds like a player that all of us on Panther Parkway want in the line-up immediately. Gildon's style would be a welcome addition to the blue-line this season, however that's not likely to happen. Next season however, he will compete for an opening night roster spot.
(Image Property of the Florida Panthers)
Perhaps my favorite signing between the 3, John Ludvig was drafted in the 3rd round in 2019. Why is this my favorite signing? The pick the Panthers took him at was the one they received in the Alex Petrovic trade. The fact that Dale Tallon got a 3rd for Petro… is probably why Peter Chiarelli is no longer a GM. I hope this kid is a home-run. He is a defensive defense-men who made a huge jump this year in the WHL. lastwordsports.com had this to say, "Ludvig demonstrated he can help anchor a power play. He wasn't drafted with high expectations but he has some of the tools of a modern NHL defense-man. Ludvig's skating ability and physical power give him an edge over smaller defenders he might find in the professional ranks." He will be fighting for a roster spot but ultimately will need time to develop.
(Image Property of the Florida Panthers)
Rauhauser is an undrafted collegiate free-agent. Signed a one-year 2-way deal that will most certainly see him play for Florida's AHL affiliate next season. The Hobey Baker-finalist, is an offensive defense-man and PP QB. Has a great shot and can put the puck on his teammates sticks.
With these moves it tells me a few things. First, the top 6 we have this season, will be drastically different next season. The team is not tough enough to protect the front of the net (just check any heat map, especially Bobrovsky) and allow opposing teams to enter the zone at will. They've done a much better job since "the talk" a few weeks ago but had they played like that all season long, we wouldn't need to worry about the team in Toronto.
Even if these 3 don't make the opening night roster, they will surely play for Florida's new AHL affiliate. But what happens to the defense-men playing for Springfield? Will newly acquired Florida-native Chase Priskie make the jump? What about Brady Keeper or Thomas Schemitsch? Too many pieces, not enough spots.
Secondly, who goes? Well it goes without saying that Mike Matheson's days are numbered, either by way of trade or buy-out. Quenneville has that dog-house in the pound. Mark Pysyk? Thank you for being a good soldier, and showing us that we need to move on from certain players. But, we'll see you on your mower riding out of Sunrise. Keith Yandle? Better ask my buddy Tom, what he thinks. Josh Brown and Weegar? Good to fill in as a 7th defense-man.
With the uncertainty of the rest of the season and next, the Panthers are solidifying their future. With these signings, the writing is on the wall for the defense. Play as a unit every game, be tough to play against and you'll have a spot in Sunrise.
Thanks for reading.
You can follow along with Panther Parkway @pantherparkway on Twitter! You can also follow our writers: @FrankRekas, @Josh_LOPanthers, @JacobWinans8, @prudentia0, @Spencer_hoag, @Mister_Joester! Make sure to follow and listen to our podcast @LOPanthersPod All images unless otherwise noted are courtesy of @KimSmithImages