Where do I even begin? I am actually 3 years older than Mr. Laus, so it is kind of hard to consider him my boyhood idol, but he is by leaps and bounds my favorite Florida Panther Player. He started with the Panthers as an inaugural member and played through the 2002 season. In 1993, when it all started, he was 23 and fresh off a 427 PIM (penalties in minutes) stint with the Cleveland Lumberjacks of the since folded IHL. The Panthers selected Paul as the second defenseman taken in the 1993 Expansion Draft from the Pittsburgh Penguins. The Penguins had selected him in the second round of the 1989 NHL Entry Draft.
A young Laus of the Niagra Falls Thunder. (Photo credit: @paullaus3 via Twitter)
Let's get all the not-as-important stuff out of the way. Paul Laus played 530 games with the Panthers and amassed a total of 14 goals and 58 assists for a total of 72 points. He was a right hand shot defenseman, stood 6'-1" and weighed 215 lbs. More importantly, he was feisty and finished his career with a +31 in +/- and stockpiled a whopping 1,702 penalty minutes, which is good for 90th NHL all-time, behind Jay Miller and ahead of, believe it or not, our very own color guy, Randy Moller.
Now for the more interesting tidbits. Many current Florida Panther fans did not get to personally see Paul Laus patrol the ice in what is considered a "protective" roll. He was an enforcer, and an incredibly tough one at that. I have played with a few guys that have played in the NHL and a few in the lower leagues and the one thing they all say is that Paul Laus is about as tough of a fighter as ever was. He did not back down from anybody and played during an era when enforcement was a key component of the game. He was there to provide what Panther Fans made known as "Laus Enforcement". Many of the NHL enforcers were just pure fighters and usually relegated to a limited amount of ice time on the fourth line. Laus was different. He was a very solid defensive defenseman, as noticed by his life time +/- stat.
The first of these bouts came against Rudy Poeschek of the hated Tampa Bay Lightning. A good but quick tussle with Paul ending up falling to the ice after trading a few bombs. Paul would fight 11 times during that first year. He squared up with a couple of well known heavy weights in Rob Ray of Buffalo and Joey Kocur of the Rangers. Joey Kocur, for all of you Red Wings fans, is no joke when it comes to throwing hands.
https://www.youtube.com/watch?v=SDkpap6lpRI
Over his 9 seasons Laus would engage in 170 regular season and post season fights and added 7 more in the preseason. There are several that stand out to me as special. The first is against the aforementioned Joey Kocur. Laus ends up knocking Kocur's bucket off and removes his jersey.
https://www.youtube.com/watch?v=Aj-hrsEkXLo
Another is against Randy McKay who was a tough customer from the Devils. This one ends in a one-punch TKO. A nasty uppercut drops McKay.
https://www.youtube.com/watch?v=CO9fSZZcmlQ
Probably one of his best was against the badest bad boy of the NHL Bob Probert. Paul just annihilates Probert with a series of blows and bloodies him up.
And my personal favorite. Paul squares off against Aaron Downey of the Carolina Hurricanes. This is a very tactical fight with each player changing hands and ends with Downey's bucket coming off and tangling with Laus' hand. Paul just continues and hits Downey with his own helmet. I think he earned a few games suspension for that one.
https://www.youtube.com/watch?v=YHBKZuHwnlU
And the last one, which was his actual last fight against Jeff Cowan of the Atlanta Thrashers. Paul ends up punching Cowan so hard that his own hand ends up going through and crushing his wrist. This led to multiple surgeries and eventually Paul's retirement.
https://www.youtube.com/watch?v=9t5uD-eVT8k
I realize these are out and out brawls and just nasty stuff. But you have to remember these guys had to stand up for the team. If the enforcer decided not to fight, it showed the opponents that they could get away with the cheap stuff, like an elbow to the head of a Gretzky or a Lemieux or other skill guy, for us it would have been a young Rob Neidermayer. When you saw Paul Laus rag doll the likes of Rob Ray, or Joey Kocur and speed bag and drop the heavyweight champion Bob Probert, you knew this guy was for real. You simply did not try and cheap shot or injure a Panther skills guy, and if you did you knew what was coming. Look around the league today and you will see that concussions are still a very real problem and the skills guys are taking the abuse. Ask Aaron Ekblad about his concussion history. Now the NHL has the instigator rule that has all but eliminated the pure roster spot for a fighter. The additional two-minute power play and the 10-minute game misconduct puts the team at risk for a goal against and earns the guy who stands up for his teammate 17 minutes in the box. I know that many will state that the fighters also suffer horrendous concussions themselves and many will turn to the sad story of Bob Probert. This is not an easy subject to approach and is an easily split down the middle debate with half for and half against. The on-line debate seems to get as nasty as the real fights do. I personally think the cheap shots to the skills players will end up doing more damage to the NHL than the issues suffered by the enforcers. The cheap shots are typically unsuspected which is why they do so much damage. There are countless stars that have had to quit earlier due to the concussion history and other related injuries.
Paul Laus spoke of his views about fighting in an article by Kathy Mizera in December of 2014:
"It's the one sport where they had an outlet where if you had something to settle, a score to settle, or a guy did a cheap shot. It gave you an outlet to settle the score basically. And it controlled the game. They've taken that out and you've seen the high sticks or you've seen the head shots, and I think the more head shots and the more high sticks that you see it's because they're almost eliminating that type of player where there's no fear anymore that these guys can run around and take runs at the top players and there's going to be no repercussions from it. Back when I played, each team had three or four guys and you knew that if you ran at the top player, two seconds later someone's going to come after you. So there always was that, in the back of their head, that if you played outside the rules basically, you had to answer for yourself."
He was there in the thick of things so I will stand by his statement. And for what it's worth, when a Paul Laus fight was going on, I did not ever see anyone get up and walk out and go for a coffee or a beer. All eyes in the Miami Arena were watching the onslaught. It was captivating. Our teams had an identity back then, especially in the first 4-5 years. Everybody that played the Panthers knew exactly where the likes of Ed Jovanovski was because of the big hits and where Paul Laus was because of the other kind of big hit. The Arena was packed. We LOVED this rag-tag group of unwanted guys for the effort they put out every night.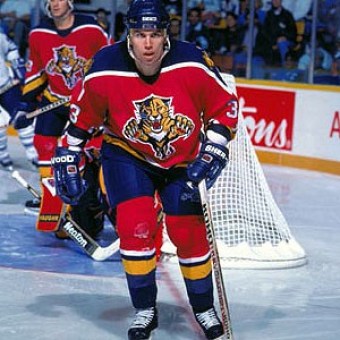 You did not want to see this during a game. (Photo credit - www.hhof.com)
I have watched just about every Panther game since that first one in Chicago, many in person at the Miami Arena and later at the BBT. I got to see the Panthers live in Boston in their inaugural year at the vaunted Boston Garden. I sat next to the Panther Bench in the first row. I took a huge amount of abuse from the Bruins fans. We did not win that game, but we fought hard and the Bruins certainly respected them afterwards. I have seen the likes of Paul Laus, and Peter Worrell and Shawn Thornton and George Parros and Micheal Haley. I miss that type of role player. When every team had an enforcer, the teams had some type of character. Tie Domi made the Maple Leafs worth watching for many years. Probert was awesome, he could score 20-30 goals a year and beat the hell out of you. It was fun to watch. Many fans will admit they watched games just as much for the possibility of a heavy weight bout as for a hat trick. It seems to me that the league is placating the viewers that are assembling Fantasy Teams and altering the rules to prevent hitting and fighting for more goals and scoring. Don't get me wrong, I love a goal or two. But I hate that feeling when we score 4 or 5 goals and are still worried to death that the opponent will come back an score 3 or 4 times in the third for 6-5 loss. I grew up knowing that hockey games were supposed to be 2-1 or 3-2 and I accepted that. I liked the defensive battles, I enjoyed the hard hits, and I absolutely loved the fights that ensued after a stupid play or a cheap shot. And if any of you think fighting on the ice is easy, I challenge you to give it a go. It's slippery and that guy is trying to kill you.
Paul Laus meant so much to many fans during his years with the Panthers. In my mind, there were none more appreciative than me. I will finish up with a story that I have previously told about my one and only time meeting and talking with Paul. It was in 1994 when the NHL owners locked out the players. Much like it is today with no hockey. I am a Floridian from the SW coast of Florida and up until 1993 I had never really heard of ice hockey. We watched the 1980 Miracle but we really had no clue what hockey was about, we just didn't want to lose to a bunch of Commies. My best friend was from Indiana and played high school hockey and was always jealous of my size, 6' and 200 lbs. He said it was the perfect size for hockey. He pestered my for awhile and I finally went out and bought some roller blades and learned to skate. I found it much easier to skate with a stick and I started playing in roller hockey leagues. I absolutely loved it and graduated to ice hockey at the Gold Coast Ice Arena. The year before I went to Boston and found an old pair of Super Tack 451s in a pawn shop. They were a bit beat up, but I separated the boots from the Tuuk blade holders and had them mounted on a pair of roller hockey wheel frames. I skated on those skates everywhere, which included back and forth to the Gym, in this case, The Boca Power Plant. Low and behold, this was the same Gym that Billy Lindsay and Paul Laus went to during that lock out year. I would take off the skates and put them by the wall while I worked out. One day I noticed these two hammer heads checking out my skates, and since it was my only form of transportation, I moseyed up to them to see what the commotion was about and immediately figured out who they were. I looked Paul Laus into the eyes and asked "what the hell are you looking at?" Ok, yes I was a little scared, but I knew from playing hockey with the fellas, that most players have a good sense of humor and I was banking on that. I could not hold my angry glare for longer than about 5 seconds, which is probably the time it would have taken Paul to dispatch me. I let them off the hook with a huge grin and stated I knew exactly who they were. It was awesome. These were two of the coolest guys I had met. We were all in our early to mid 20s and living a life of fun. They were getting paid for it, which made them infinitely cooler. We spoke about the love of hockey and about what they were experiencing during the lockout. At that instant we were just hockey players talking about hockey. There was zero condescension on their part. They were fascinated by what I had done to convert the ice hockey boot into a roller hockey skate. I was in turn fascinated by all of the scars on these guys' faces and hands. I asked them to come out and play some roller hockey with my team, they politely declined. That was one of the coolest days of my life and one I will always remember. I kept up with Billy Lindsay and would meet up with him during intermissions at the BBT. He is a solid guy and I would recommend all of you folks reading to meet him one day if possible.
Damn, I miss Paul Laus. I miss those glory days of chasing after the Cup, and of watching the flurry of fists. I have to admit, every time I see that #3 skating on the ice now, I absolutely cringe at how soft the player is inside of it. If any jersey should be hanging in the rafters, it should be #3 with Laus and 1702 on it.
That's my Beak for the Weak. Chirp, chirp peeps.
Thanks for reading
You can follow along with Panther Parkway @pantherparkway on Twitter! You can also follow our writers: @FrankRekas, @Josh_LOPanthers, @JacobWinans8, @prudentia0, @Spencer_hoag, @Mister_Joester! Make sure to follow and listen to our podcast @LOPanthersPod All images unless otherwise noted are courtesy of @KimSmithImages