First off, Merry Christmas. I hope your week was fantastic and filled with cheer and blessings of being with longtime friends and family. And I hope you got that Florida Panther Swag that you jotted down on your Santa list. I took a break from being angry at the Panthers performance last time out and enjoyed hanging out with my relatives.
For this week I am going to combine my Beak with a typical article. The Panther Parkway staff is going to be infusing some general topics in with the updates and game recaps. I chose the Defense. As you know I surf Facebook and specifically the Florida Panthers Official Fan Group. There has been an unending commentary on the Panther defense. Some of it is based in reality and some is, well, founded in a deep seeded mistrust of the organization. I wanted to get into the depths of our defensive core and speak to the pure analytical numbers as well as what I call the eye test. I promise not to dwell too heavily on all the math, but I have to touch on it to provide perspective. So, with that, let's get all up in the D.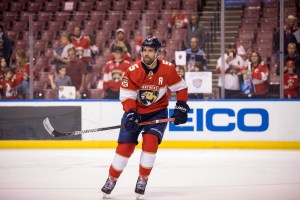 Defense, in hockey, is defined by the prevention of goals against. It truly is a team characteristic. All five skaters and the goalie work as a defensive unit and each has a specific responsibility when in the defensive zone. Defense can be active (aggressive) or passive. This can be seen by teams that huddle up in the defensive zone and block a lot of shots. These teams are passive. Teams that forecheck hard or hit to take the puck are considered active or aggressive. I mentioned the term gap control in a previous article, and it still is probably the most important aspect of defensive (as well as offensive) hockey. A good scenario is as follows. Say we are in the defensive zone and the opposing team is shooting. Our d-man blocks a shot. Good gap control has our center playing close to the d-men and the forwards are between the opposing d-men and our d-men. In this situation the center or the forwards can take the loose puck from the blocked shot and either dump the puck up the boards, skate out or pass out. Bad gap control has the center and forwards late into the defensive zone or very high up by the blue line. This distance allows for the opposing forwards to control the puck and get additional shots. Gap control can literally be the difference between winning and losing.
We can all argue until we are blue in the face about everybody's favorite stat of plus-minus. "It's the single worst stat of all. How can a stat that takes into account everyone on the ice be fair to an individual? It's not fair that ineffective goal tending play can skew the stats". Yeah, yeah, whatever. I've said it before, every single defenseman, from beer league to mites, to rec league, to juniors, to ECHL, to AHL and the NHL, EVERY SINGLE ONE OF THEM, will know exactly what their plus-minus is at every second during the game. This stat is essentially a measure of how well you are playing against your opposition. For those that might be new to the sport, plus-minus is a measure of goals for (+) compared to goals against (-). If your team scored three goals while you were on the ice and the other team scored two goals while you were on the ice, your plus-minus would be (+) 3 minus 2 or plus one. If the opposing team scored 3 and your team only 2 your plus minus would be (+) 2 minus 3 or minus one. It is typically kept track for individual players but may be better when comparing the D-pairs. In beer league we are constantly reminding each other who carries the plus and who has the minus. So, if every defenseman knows their plus-minus at any given time, I ask you "how is it not a relevant stat"?
Another important stat is turnovers. It is broken down into takeaways and giveaways. These can be compared by either dividing the takeaways by the giveaways or by the difference between takeaways and giveaways. If the ratio is less than 1 or the difference a negative number you are prone to giving the puck to the opposing team.  If you give the puck to the opposing team more than your own players, you will be considered a liability and will make life very difficult for your goal tender. Turnovers typically lead to scoring chances against and in the worst-case lead to goals against. Your goal tender will always remind you of your turn over count, so you may not have to keep track of it yourself.
Blocks and hits help round out the typical standard defensive stats. As mentioned above, these stats can help you understand if your team is an active or passive type team. If the team consists of more "offensive" defensemen you will see the number of blocked shots go up and the hits go down, and vice-versa.
I'm sorry. I have to do it. Advanced stats. Analyticals. Make it stop. Seriously, they are like that smart phone you are probably using to read this. Back when you had your Nextel or other flip phone (you millennials just proceed to the next paragraph) the thought of having to negotiate around apps and touch screens frightened you (you can admit it). But as you practiced it you got the hang of it. Now try and think about having to send a text while having to push the number keys like 50 times to say "LOL". Now the smart phone makes your life much easier (well, for the most part). Once you understand the advanced stats, they become useful.
A simple advanced stat is Corsi. I know, I know, I said it. Hopefully you haven't hit the back button and scrolled away. It is simply a measure of total shots taken or attempted. They add up shots on goals plus blocked shots plus missed shots. You can look at the shots for and the shots against. If you think about it, if you are shooting the puck, you are in control. If you shoot more than the other team, then you have a much better chance of scoring goals and possibly winning. It is not absolute but just shows a trend. The stat I like is called CF% or Corsi For Percentage. For this stat it is taken at even strength. It is a ratio of your Corsi (total shots taken by your team while you are on the ice) to the total Corsi (total shots take by your team plus the total shots taken by the opposition). You are looking for a number higher than 50% to show that you are controlling the puck more than they are.  Lastly, for this article, is Zone Starts, which are broken in to offensive zone starts (oZS%) and defensive zone starts (dZS%). This is a measure of where you start your shift on face offs. If you start in the defensive zone predominantly you will have a higher than 50% dZS% and vice versa. Understanding Corsi takes a good review of the zone starts. Defensemen that predominantly start in the D zone can typically have lower Corsi since this area has a higher opportunity for shots against. There, it wasn't so bad.
Now let's review the numbers for our defensemen:
First, Anton Stralman and Mike Matheson are not doing very well in the plus-minus category. Their Corsi is lower than the 50% standard. Based on the zone starts, it is expected than Matheson might fare worse since he starts more in the defensive zone. So, by the numbers, Stralman is not doing very well in a defensive role for the Panthers and is considered the least effective defenseman. But you have to remember he has played with Mike Matheson as a pairing this year, and unfortunately, if Matheson makes a mistake (which is prone to do) that ends up as a goal against, Stralman takes a minus as well. Visually, you can easily see that Stralman plays a smart, safe game and rarely takes chances by skating out of the d-zone through traffic on the breakout. Matheson, on the other hand, is well known for be a risk taker and his defensive stats illustrate that.  The comparison of Stralman and Matheson is further evidenced in the fact that Stralman has a 1.0 turnover ratio compared to Matheson at 0.5.  Next, Yandle is a bit of a conundrum. He is a +7, however his Corsi is low even while starting in the O-Zone predominantly, and he is a turnover machine with a worst on the team 0.30. Visually you can see this in the Panther's lack of offensive zone time. They very rarely control the play in the O-zone and are prone to turning the puck over, as easily evidenced in the stats for Yandle. This tells you that he is a defensive liability, however he helps ease the pain with his offensive production in goal scoring. Ekblad leads the team in plus-minus and Corsi, however it appears this is to be expected since he also leads in time on the ice and predominantly starts in the offensive zone. Ekblad is having a very solid year so far, and visually appears to be improving over the past few years.  The coaching staff relies heavily on Ekblad, and his confidence is beginning to show through. He has excellent hand skills and appears to be learning from Huberdeau as he is becoming one of the best stickhandlers on the team. Pound for pound, Mackenzie Weegar has been the best defensive defenseman. He leads in hits and is a close second in Corsi even while predominantly starting in the defensive zone. He is gaining confidence and seems to know the right time and place for a zone exit by means of skating versus a pass, unlike a few others.  Josh Brown is young and appears to be confused sometimes. Hence his ice time is almost half of the leaders. He is a leader if you look at hits per minute of ice time, however he is prone to turnovers and his Corsi is low despite starting in the offensive zone most of the time. One good thing is that he does not try to get too fancy in the O-zone and does a good job at getting shot attempts towards the net. Mark Pysyk is an outlier and has spent a much time at forward as he has defense, so I will not consider him in this exercise. All of the above results in the stats for the Panther goalies with Sergei Bobrovsky at 0.899 save percentage and 3.20 goals against, Sam Montembeault at 0.889 save percentage and 3.31 goals against average, and Chris Driedger at 0.948 save percentage and 1.69 goals against average.
All these stats are great, but what we are really looking for is how good are we compared to other teams. The New York Islanders lead the league in goals against at a total of 90, therefore I will consider them to be the best defensive team in the NHL. Let's review their stats.

Not one of their defensemen has a negative plus-minus (they range from +1 to +5). The biggest things that stand out is the Islanders block more shots than the Panthers by almost 100, which is 37% more and they outhit the Panthers by more than 100, which is 59% more.  The Islanders have an average 47.12% Corsi compared to the Panthers at 48.42%. So, with a lower Corsi and 0.4 turnover ratio, how are the Islanders leading the league in goals against? Let's take a quick look at their goaltenders. Semyon Varlamov is at 0.919 save percentage and 2.47 goals against average and Thomas Greiss is at 0.924 save percentage and 2.43 goals against average.  Remember, defense is a team strategy and the goal tender is the last line of it. Goaltending is usually the difference in getting your name etched on the Cup or written on to the round sheet at the golf course. All of this results in the aforementioned league lowest goals against and 23-9-3 record worth 49 Points and a solid playoff position at second in the Metropolitan Division compared to the Panthers on the outside looking in at 4th in the Atlantic.
Another factor in defensive hockey is the measure of quality scoring chances given up and more importantly where they are given up. They best way to understand this is to see a graphic of it. The below picture (I like to hassle all the analyticals by calling them finger paint graphs) represents where the shots are coming from in the defensive zone. The blue areas are "cool" areas and this is where very few shots are coming from. The red areas are "hot" areas and show where the high shot counts are coming from. These graphics are courtesy of Micah Blake McCurdy 2019 as found on their website hockeyviz.com.
You will see that the Panthers allow a lot of shots in the area directly in front of the goal and in the area between the face off circles and the blue line. This can be seen and verified when watching the Panthers in their defensive zone. I have mentioned many times before that their defensive strategy is to huddle in the middle of the ice and attempt to block shots. They will approach the offensive players, but rarely hit and they are typically late which allows for a pass to an open player and potential undefended shot. Also, the defensemen position themselves so that opposing forwards are between them and the goalie. You will notice the large blue area in the middle of the zone which is where all 5 Panther players stand. It is a very passive defensive strategy and as such gives up a ton of chances right in front of the net and allows the opposing defensemen to come in closer for shots on net, which turn into rebounds and even more chances.
In contrast, the Islanders give up a much smaller area in front of the net for the hot zone and a very large area way out closer to the blue line. This is suggestive of their more active or aggressive style of play. They keep the shots as far as possible away from the goalies. This can be seen with their hitting style of play that takes away time and space and separates the puck from the player.
In summary, it is just as we have noticed by eye, the Panthers suffer from acute softness in the defensive corps. They opt for a passive style of play and attempt to block shots while huddling in a defensive ball. It appears that the secret to a strong and more effective defense is increased aggressiveness in the form of hitting and separating opposing players from pucks and keeping scoring chances at farther distances from the net.  This is a tough style of play and cannot be attempted casually. The Panther system is based on puck possession. It does not specify where the puck comes from, however just that it is possessed. The passive shot block and rebound style of play is simply not effective and if they want to have success and move into a solid playoff position, the Panthers must switch their style to the active defensive strategy. It's simple: clear the crease, engage the opposing forwards in front of the net, and forecheck/hit to gain puck separation. This all leads to a very effective means of possessing the puck. If you take it away before they have a chance to shoot, not only do you possess the puck, but you also eliminate their chance to shoot and lower their chance of scoring.  It is time to change the mentality of what it means to be a Florida Panther. Protect the Territory. Now how bout we go out and exert our will on the Detroit Red Wings on Saturday and the hated Montreal Canadiens on Sunday.
That's my hybrid Beak of the Week. Chirp, Chirp peeps.
Thanks for reading.
You can follow along with Panther Parkway @pantherparkway on Twitter! You can also follow our writers: @FrankRekas, @Josh_LOPanthers, @JacobWinans8, @prudentia0, @Spencer_hoag, @Mister_Joester! Make sure to follow and listen to our podcast @LOPanthersPod All images unless otherwise noted are courtesy of @KimSmithImages