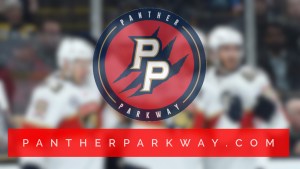 Happy Friday Florida Panther fans.  Well, only cause the weekend is here. I think I am up to Week 9 for the beak, I'm getting older so I will blame it on that. This week was not one of our better ones. We started off really strong with two shut down regulation wins against Columbus (I was in attendance for that one) and San Jose, and then got undressed by Tampa Bay and the New York Islanders. Again, fiddy-fiddy. You really don't go anywhere when you take two steps forward and two steps back. It would be cool if we were awarded more points for a larger goal differential win, but that's not the way it goes. Just need to win. Period.
So, we have to take the good with the bad. Good: we are clearly a better team than both Columbus and San Jose, and it showed. We did exactly what we were supposed to do and beat two over matched teams. It feels good to win, but when you play weak competition it does not allow you to really learn about your team. But, as a takeaway, when the Panthers play great team defense including defending the middle, keeping the opposition on the perimeter, out-hustling to pucks in the corners, out-hitting, and shut-down goal tending you typically win. We won. It was awesome. Another fantastic good is Bob showed up in four straight games, allowing 1-1-2-2 goals over the four games. That's 1.5 goals against. He faced 142 shots, and had 136 saves, that's 0.958 save percentage. That's world class folks.
Actually, one of the best things about the Columbus game was something that happened on the ice before the game began and extended into the game. The night was December 7, and many of us older fans know that that day is sacred, and a day which will live in infamy. The Panthers honored a 100-year old World War II veteran. One word: Humbling. For the anthem, the man stood up out of his wheel chair and saluted the flag. It became so chillingly quiet in there you could hear a pin drop. Only sound was maybe a few sniffles or sobs as the tears started to flow. Every single, and I mean every, person there from 3 to 100 stood and respected that man and what he had done for this country. For two minutes we were united, didn't matter if we had a Panther sweater or a Columbus sweater, we were 100% committed to doing the right thing. In a day and age where we are so divided and filled with hate, we stood together. And it was amazing. A little later they paid homage to the gentleman and he told a little of his story, about being in a foxhole, about them shooting at us and us shooting at them, about holding a friend while he died in his arms. He didn't want to be there, but he didn't want the man to die alone. I am literally tearing up as I write, so I will let you ponder it further. But we really need more of that in our lives.
Now the Bad: the Tampa Bay Lightning and the New York Islanders exposed us for what we are. We are weak, we are fragile, we are not very united, and our system may be flawed. The news is out on the street. Teams come in and aggressively forecheck us. They retreat to the blue line and shut us down through the neutral zone. They actively pursue and push on us in the power play, which looks stale and just a one trick pony set up. They stand in front of our goalie and are allowed to screen him on shots. They out-hit us and take away our time and space. There were two major flaws through these two games. The first was the second goal for the Lightning. This is one where we got caught puck watching with four (4) Panthers caught watching Anthony Cirelli, allowing Alex Killorn to score on a very soft wide angle backhand after a horrible rebound was given up by Sergei Bobrovsky. The photo montage below shows the carnage:
3 on 3, Contained, Looking Good
Drop pass to Cirelli, Yandle & Vatrano closing, no one covering Killorn
Cirelli shoots, a soft easy shot for Bob, four Panthers attack Cirelli, Killorn all alone cruising.
Three Panthers completely out of position, Killorn beats Bob who is late to the post.
The above is completely unacceptable. Completely. Think of it this way, when you drive you don't expect your sparkplug to operate the brakes. Every man has one role, check the guy that is nearest you, let your teammates cover their man. We constantly get caught "trying to help out" and we constantly get burned. Insanity is defined as repeated attempts at a task expecting a different outcome. Just stop it. It is so easy to do your one job. It becomes virtually impossible for that spark plug to stop your car.
The second was Mackenzie Weegar having an inexcusable mental break down on the second Islander power play.
Everything is good, loose puck behind the net. One job: get the puck out of the zone.
Weegar sees Colton Sceviour breaking up and out. Split second decision goes with a pass. Sceviour should break to the boards on this one.
Ouch, Weegar opts to pass direct to Sceviour, doesn't see the opposing player. Boards are unobstructed (better option). Three Panthers already breaking out. Two Islanders low, undefended.
Barzal has 4'x6' of open net to look at.
This is where we have to talk about the system being flawed. The Panthers run a complete puck possession type system. This requires puck passing to move the puck through and around the three zones. Other types of systems allow for a dump and chase setup where the defenders shoot the puck into the offensive zone and the forwards forecheck to dig out the puck and gain possession. The former looks really fancy, the latter is dull. So, back to the play. Weegar gets an otherwise opportune gift of an easy puck behind the net on a PK, nobody on him. He has three options. The absolute safest is to dump the puck hard up the left wing boards, which would have resulted in an easy clear. The second is to make a quick pass up the boards to Sceviour, again probably an easy clear out of the zone. The third, and most dangerous, a pass directly to Sceviour up the middle. He chooses option three, more than likely because he has been preached to about puck possession. Your mom probably taught you "there's a time and place for everything". Well, on a penalty kill there is never, and I repeat never ever never never ever never ever, ever a time or a place to pass the puck through the middle to a player who is covered. Just a dumb play, and Weegar knew it about 0.52 seconds after that puck left his stick, as that stick became two pieces after he tried to beat the goal post with it. The game was 1-0 at the time and the Panthers were holding their own, Bob was great, the team D was great. The Islanders are known for their shut down style and you cannot let them ever have a two-goal lead because they will trap and dump you until you're are bored to death.
I seriously hate having to repeat these concepts over and over. Hockey is simple (where have I heard that before). The game is typically decided by a goal. Therefore, you cannot afford to give up any goals. When in doubt always go with the simple, safe play. Especially when you are trying to kill a penalty. This is a concept that is taught at the first stages of hockey competition, which is why it is so hard to accept when you see it happening by some of the most gifted players in the game. Pound for pound, Mackenzie Weegar is my favorite Panther this year. He brings his entire body of work to every shift of every game. He has become our best defenseman, in my opinion. This is a very hard lesson for him to learn, so I expect we will not see that again.
Next up are the Boston Bruins. I cannot express enough how important that game is. We must win. To do so we are going to have to shut down one of the most potent lines in hockey. They are skilled and they are a little grittier than our top line is. But they are just like every other player. When you take away their time and space, they will make mistakes. This might be a game that we have to change the system. Stop with the soft perimeter puck possession system and revert back to a trap and dump setup (it worked against us by the Islanders). Make the Bruins battle for every inch of space out there. Stop with the huddling up in the middle defensive strategy where we constantly chase the puck around while always seeming to be a second late. Just stay with your man and quit trying to be a spark plug when you are a brake pad. Our goalie is playing at an elite level, finally, so it is time to get on the same page with some offensive effort and timely goals.
I love this team passionately. They are my annoying younger brother that cannot seem to listen to me to avoid pitfalls and must experience every stupid bad thing for himself. But I love my younger brother and I would do anything to see him succeed. So, HEY!!!!! Younger brother, SNAP OUT IT!!!
That's my beak for the week. Chirp, Chirp peeps.  Thank you so much for reading.
Thanks for reading this article! You can follow along with Panther Parkway @pantherparkway on Twitter! You can also follow our writers: @FrankRekas, @Josh_LOPanthers, @JacobWinans8, @prudentia0, @Spencer_hoag, @Mister_Joester! Make sure to follow and listen to our podcast @LOPanthersPod All images unless otherwise noted are courtesy of @KimSmithImages