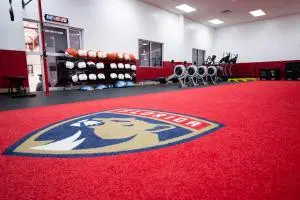 Is this the year?
Every sports movie has that moment when the player, and therefore the audience, begins to sense that their moment has finally come. After being kicked around and beaten by their opponent, a sudden ray of light beams down on the team as hope for winning is renewed. Then with some sort of battle cry, or inspirational speech, that will forever be played in countless arenas before overtime, the team transcends expectations to win the trophy and complete their story!
So the question now becomes for the Florida Panthers, is this the year? Has that "ray of hope" finally settled squarely of the shoulders of a Finish center, a Russian goalie and a legendary coach?
It sure seems like things are headed in the right direction. The Florida Panthers have not made the playoffs since the 2015-2016 season when they lost to the future Maple Leaf John Tavares and his New York Islanders. After that season Dale Tallon was "promoted" and Tom Rowe took over as general manager of the team. That is right about when everything went to hell.
Valuable players were shipped out of town, Gerard Gallant took a taxi ride, Rowe made himself head coach (the position he wanted in the first place) and the team crumbled. Even after Rowe was fired, the team struggled through the expansion draft, helping to fill Gallant's new team with solid players, and sort of drifted into mediocrity, until about the halfway point of last season.
That's when things began to change. The Panthers traded forwards Nick Bjugstad and Jared McCann to the Pittsburgh Penguins in exchange for forwards Derick Brassard and Riley Sheahan, both of whom will not return to the Panthers this season. This freed up the salary cap space necessary to give the Panthers a shot at competing in the free agent market to help bolster the team. It became obvious that Dale Tallon was making moves to help restart a team that was struggling.
When the season ended, Tallon fired Bob Boughner and brought in the legendary Joel Quenneville to be head coach of the Panthers. Quenneville has more wins as a head coach than the Panthers have wins as a franchise. This automatically became a game changer for the Panthers, now the players will be exposed to a coach who is a proven winner and one of the greatest coaches in the history of the game!
Then free agency hit and the Panthers were able to add two time Vezina (best goalie) winner Sergei Bobrovsky, who had become unhappy with his former team in Columbus. Bobrovsky, coming off a spectacular performance in the playoffs brings tons of talent and experience to the team, experience needed after Florida Panthers longtime MVP Roberto Luongo announced his retirement.
Bobrovsky of course joins a team that already boasts the likes of Aleksander Barkov (35G, 61A), Jonathan Huberdeau (30G, 62A), Mike Hoffman (36G, 34A) and Evgeny Dadonov (28G, 42A) making magic in the offensive department. Not to mention young defensemen Aaron Ekblad and Mike Matheson, along with many other high end prospects.
All of this is enough to make even the most casual Florida Panthers fan (of whom there are many) take notice. Adding MVP caliber goaltending to a team that already boasts a high scoring offense should make them ready to contend.
The questions now becomes, is it reasonable to be hopeful for a deep run by the Florida Panthers this season?
The answer is yes, as a Panther's fan it is reasonable to hope that this might be the year. This is, without question, the most talented Florida Panthers squad ever assembled. They have everything they need to compete and should be regarded among the elite teams in the Eastern Conference! HOPE! Because this could be the year!
But in the midst of that hope… don't have unrealistic expectations. Give the team some time to gel together. The season is not won or lost of the first few games. We are all excited to see what happens, but we must remain calm and trust that this squad is the best team we have ever had. We should enjoy hockey, not stress out about it. Remember that players see what is said about them, and that they want to win just as much as we want them to! One goalie said it this way…..
"How would you like a job where,

every time you make a mistake,

a big red light goes on and 18,000 people boo?"

-Jacques Plante
Be positive, get fired up and be there opening night!
We are in for an amazing year Panthers fans, and Panther Parkway will be right here along with you!