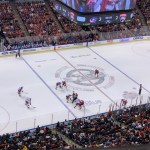 The Florida Panthers hosted the Columbus Blue Jackets on Saturday night. A team that Florida hasn't been able to beat since January 14, 2017, losing six in a row during that time. Last night would be the seventh. And it played out pretty much the same way many of the recent losses have been happening.
A slow start again saw the Panthers trailing within the first two minutes when Anthony Duclair caught a breakaway pass and put a shot past Panther netminder James Reimer. 1-0 Columbus, and the game had barely began. Yes, the Panthers fought back to take the lead on goals by Jonathan Huberdeau and a bullet from Mike Hoffman. But that lead evaporated as Josh Anderson of Columbus tied the game at two in the second period. The Jackets took the lead back when Brandon Dubinsky scored, unassisted, early in the third. In typical "Cardiac Cats" fashion, the Panthers turned on the pressure and Aaron Ekblad tied the game late in the third on a "nasty" back hand shot that must have caught Columbus goaltender Sergei Bobrovsky by surprise. The puck made it through his "five hole" and Bob the goalie was visibly frustrated with himself afterwards.
So has been the plight of the Panthers recently. Poor start. Find a way to bounce back. Yet the results aren't always on the positive side. With both Montreal and Buffalo losing last night, the Panthers had a chance to add two points in their wild card chase, yet only managed one. One point while nice to have isn't acceptable. Especially at this juncture in the season.
"We had a lot of great parts in the game, a lot of great pushes, but the one big mistake keeps haunting us, Panthers coach Bob Boughner said. "We've got to get better at that."
There seems to be one major problem that continues to haunt this team. And this is in addition to one big mistake in each game. The problem is the slow starts. The Panthers don't seem to be prepared to start the opening few minutes. Last night the starting line was Troy Brower-Jared McCann-Jayce Hawryluk. An energy line if you will. Good intentions, but they weren't able to create anything. Columbus took an early lead due to defensive mistakes and there you have it, the Panthers are chasing it within the first two minutes.
The Jackets actually played the perfect road game. Get that early lead. Take the home crowd out of it. Slow the game down. Capitalize on a mistake (or 3), and then come out victorious. Perfect recipe.
Why are the starts so slow for the Panthers? Consistently? Why does it seem to take at least 20 minutes to get their legs going? How are they suddenly able to turn things on later in the game, and compete like they're expected to? The players are looking for answers. The looks on a few of the players in the dressing room last night after the game were telling. Frustrated. Arms folded. Dejected. Sitting and wondering how to get out of this continued funk.
To top it off, there's always one "big" mistake a game that coach Bob Boughner is referring to, and it's normally coming from the defence which in all honesty has been the elephant in the room this season. Mike Matheson has been this season's punching bag, and there's very good reason for the most part. He's a very gifted player who is a smooth skater, with great offensive skill, but defensively has been a train wreck lately. He's a minus 18 this season, and minus 23 for his career. While some of those are likely not all his fault, this season his defensive play has been below average. I didn't like the long term signing when it happened, and I like it even less now. The money, is okay I suppose, but a bridge deal may have been more appropriate for a touch less as well. 2 years? Then if he pans out as expected, give him the 8 year contract. He's played 203 games in his career. It's beginning to show. I think the coaching staff needs to reel him in and tell him, stop with the offence. Concentrate on the defence, because 1) that's your position, and 2) your eagerness to create offence is backfiring.
But he's not the only one. The entire blue line corps has been making mistakes that are consistently leading to goals from the opposition. They've been sloppy, and are having a very difficult time getting out of their zone. Game upon game. We here at Panther Parkway have dissected this several times. The zone exits need work. There's virtually no puck possession time when they do this. It's almost as if they panic trying to get out of their end.
The other problem in their game is that they need to play much differently than they have been. They are soft. Not only with their checking, but many times with their passes, and their attempts at shooting. The team needs to play with more grit, sandpaper, urgency, and like their pants are on fire. There is virtually no physical play whatsoever, especially in the crease trying to move out the opposition. They've been playing a nice soft game.
Here's the game winner from Seth Jones, 18 seconds into overtime. Notice how Pierre -Luc Dubois gets past Huberdeau, and still is able to make a nice cross ice pass:
It's time that it changes. Get a chip on your shoulder boys. Play pissed off for a change, and "take it to them". There needs to be some emotion let out as this has to be absolutely frustrating. I'm not talking about fighting, or taking dumb penalties. I'm talking about playing a grinding, physical style that makes you hard to play against. The softness isn't working. Other teams know it, and are actually prepared for it. The talent is way too good on this roster to be struggling so much.
This upcoming 5 game road trip has 10 points on the line in some not so friendly cities. Pittsburgh, Edmonton, Calgary, Vancouver and Montreal before coming home on the 18th against Toronto. 10 points available on the road of which you must get 7. Two more at home of which you need both. That's 9 of 12 available points. It's the season on the line right here.
Thanks for reading.
Please follow me on Twitter @FrankRekas